---
October 4 - 5, 2015 [5776]
Sh'mini Atzeret is
a solemn time for reflecting on the seven previous days of the festival of Sukkot. It also is one of the four times during the year when we mourn together (
Yizkor
) and recite the memorial prayers in remembrance of those whom we have loved and lost.
Simchat Torah
is a joyful celebration, often symbolized by dancing. Hebrew for "Rejoicing in the Law," Simchat Torah also celebrates completion of reading the Book of Deuteronomy (the fifth book of the Torah) and starting from the beginning with the Book of Genesis.
Listen to Rabbi Davidson's Sermon »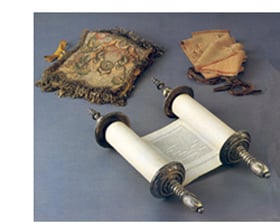 ---
View our Family Activities
for Simchat Torah »
---
In Israel and in many communities around the world, Simchat Torah is celebrated on the same day as Sh'mini Atzeret, making them a one-day festival.
If you are unable to join us in person for Sh'mini Atzeret worship services, then you can listen
live
on the Emanu-El website, through the
Emanu-El audio player
after completion of the live service, or through
podcasts
. (MP3 files are available for one week after the service.)
Back to Holy Days & Festivals