---
October 3 - 4, 2014 [5775]
Yom Kippur is a day to practice self-denial, which is executed through fasting, prayer and repentance. In preparation for Yom Kippur, it has become customary for Jews to seek forgiveness from friends and relatives they may have wronged throughout the year. Yom Kippur also is seen as a time to honor loved ones of blessed memory. At Temple Emanu-El, relatives of members of the congregation are memorialized by reading their names during the Yom Kippur memorial service.
Yom Kippur worship services are conducted simultaneously in the Fifth Avenue Sanctuary (Fifth Avenue at 65th Street) and in the Leon Lowenstein Sanctuary (10 East 66th Street).
Reserved seating is required for both locations.
At the
Kol Nidrei service (8 PM)
, Rabbi Amy Ehrlich, Rabbi Benjamin Zeidman, Dr. David Posner, Cantor Lori Corrsin and Soloist Steven Fox will officiate in the Fifth Avenue Sanctuary; Rabbi Joshua Davidson, Dr. Ronald Sobel, Rabbinic Intern Alexis Pinsky and Cantorial Intern Richard Newman will officiate in the Lowenstein Sanctuary.
At
Yom Kippur morning services (9:45 AM)
, Rabbi Davidson, Dr. Sobel, Alexis Pinsky and Richard Newman will officiate in the Fifth Avenue Sanctuary; Rabbis Ehrlich and Zeidman, Dr. Posner, Cantor Corrsin and Steven Fox will officiate in the Lowenstein Sanctuary.
Please note: This year we also will have a
Shir Chadash
("A New Song")
service on the
Eve of Yom Kippur at 5:30 PM
. The service will be held in the
Lowenstein Sanctuary
; tickets are available by calling the Temple Office at
(212) 744-1400
. Rabbis Davidson, Ehrlich and Zeidman, along with Rabbinic Intern Carlie Daniels and soloist Hadar Orshalimy will lead this service.
And, at
9 AM
on
Yom Kippur morning
, we will host a brief, introductory holiday service, featuring music and a story, for toddlers through kindergarteners and their families. No tickets are required. This service will be lead by Rabbi Davidson, Rabbi Zeidman and Hadar Orshalimy.
Our
Teen Worship Service
will be held at
12:30 PM on Yom Kippur
. All Emanu-El teens in grades 7 through 12 are invited to attend. No tickets are required.
Our
Family Worship Service
will be held at
2 PM on Yom Kippur afternoon
. Only one ticket is needed per family. A family tour of the
Bernard Museum of Judaica
will follow the service.
---
Download our handy guide to all High Holy Days Services »

---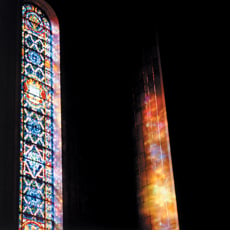 Worship services from the Fifth Avenue Sanctuary may be heard via
live audio stream
on the Emanu-El website, through the
Emanu-El audio player
after completion of the live service, or as
podcasts
. (MP3 files are available for one week after the service.)
College students,
both Temple members and nonmembers, who do not already have seats are invited to join us for Yom Kippur services in the Lowenstein Sanctuary. Students need simply to present a current college ID at the Beth-El Chapel entrance on Fifth Avenue on the day of the service, and they will be given an entrance ticket for that service. The Beth-El entrance is open 30 minutes before each service. We also host community worship services in conjunction with the evening, morning and afternoon services, open to the public in I.M. Wise Hall (One East 65th Street), that feature audio from the Fifth Avenue Sanctuary services. No reservations are needed.
Once again, after the Yom Kippur morning service, we will offer multiple sessions led by scholars of the Temple in which we can learn, study and reflect. Participation is open to all Temple members and their guests.
---
Watch Rabbi Davidson's brief video message
in preparation for Yom Kippur »
View the list of Yom Kippur study sessions »
View our Family Activities for the High Holy Days »
Back to Holy Days & Festivals