---
September 25, 2014 [5775]
Rosh Hashanah is both a joyous time and a period of serious religious reflection. One of the common customs of Rosh Hashanah is to eat apples dipped in honey and to wish others a "sweet" New Year. The preeminent symbol, however, is that of blowing the shofar — a "trumpet" generally made from the horn of a ram (because of its association to the binding of Isaac, the Torah portion read for Rosh Hashanah). The shofar also should be bent or curved in a shape to symbolize the bent and humbled spirit appropriate on Rosh Hashanah.
Rosh Hashanah worship services are conducted simultaneously in the Fifth Avenue Sanctuary (Fifth Avenue at 65th Street) and in the Leon Lowenstein Sanctuary (10 East 66th Street). On the
Eve of Rosh Hashanah (5:30 PM)
, Rabbi Joshua Davidson, Cantor Lori Corrsin, Dr. David Posner, Rabbinic Intern Alexis Pinsky and Cantorial Soloist Steven Fox will officiate in the Fifth Avenue Sanctuary; Rabbi Amy Ehrlich, Rabbi Benjamin Zeidman, Dr. Ronald Sobel and Cantorial Intern Richard Newman will officiate in the Lowenstein Sanctuary. At the
morning service (10 AM)
, Rabbi Ehrlich, Rabbi Zeidman, Dr. Sobel and Richard Newman will officiate in the Fifth Avenue Sanctuary; Rabbi Davidson, Cantor Corrsin, Dr. Posner, Alexis Pinsky and Steven Fox will officiate in the Lowenstein Sanctuary.
Reserved seating is required for both locations.
Please note: This year we also will have a
Shir Chadash
("A New Song")
service on the
Eve of Rosh Hashanah at 8 PM
. The service will be held in the
Lowenstein Sanctuary
; tickets are available by calling the Temple Office at
(212) 744-1400
. Rabbis Davidson, Ehrlich and Zeidman, along with Rabbinic Intern Carlie Daniels and soloist Hadar Orshalimy will lead this service.
And, at
9 AM
on
Rosh Hashanah morning
, we will host a brief, introductory holiday service, featuring music and a story, for toddlers through kindergarteners and their families. No tickets are required. This service will be lead by Rabbi Davidson, Rabbi Ehrlich and Hadar Orshalimy.
College students,
both Temple members and nonmembers, who do not already have seats are invited to join us for High Holy Day Services in the Lowenstein Sanctuary. Students need simply to present a current college ID at the Beth-El Chapel entrance on Fifth Avenue on the day of the service, and they will be given an entrance ticket for that service. The Beth-El entrance is open 30 minutes before each service. We also host community worship services in conjunction with the evening and morning services, open to the public in I.M. Wise Hall (One East 65th Street), that feature audio from the Fifth Avenue Sanctuary services. No reservations are needed.
Services from the Fifth Sanctuary also may be heard via live audio stream through the Emanu-El website. Follow the
"Listen to the BROADCAST OF SERVICES"
link from the Emanu-El Home Page and click the play button in the center of the Live365 Radio audio player. Services may be heard at any other time, after the conclusion of the live service, through the
Emanu-El audio player
or by
downloading the MP3 files
for use with a personal audio player. (MP3 files are available for one week after the live service.)
Please note...
On Thursday, September 25 at 12:30 PM,
Ambassador Ido Aharoni, Consul General of Israel in New York,
will speak from the Lowenstein Sanctuary about "Israel Today."
No reservations are required.
Unable to attend the Rosh Hashanah morning service?
One of our rabbis will be happy to pay a home visit to Temple members on Rosh Hashanah afternoon, shofar in hand. Call the rabbis' study at (212) 744-1400, ext. 303.
---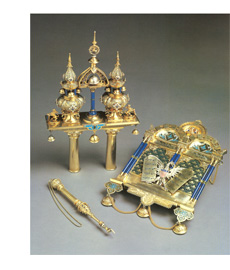 View Rabbi Joshua Davidson's video messages for the High Holy Days and Rosh Hashanah »
Send friends and family a Rosh Hashanah eCard featuring NEW artwork by students from our Religious School »
Download a list of books for adults
about the High Holy Days, available in the Stettenheim Library »
Download a list of books for
children about the High Holy Days »
View our Family Activities
for the High Holy Days »
Learn about High Holy Days seating »
Back to Holy Days & Festivals