---
September 17, 2012 [5773]
Rosh Hashanah is both a joyous time and a period of serious religious reflection. One of the common customs of Rosh Hashanah is to eat apples dipped in honey and to wish others a "sweet" New Year. The preeminent symbol, however, is that of blowing the shofar — a "trumpet" generally made from the horn of a ram (because of its association to the binding of Isaac, the Torah portion read for Rosh Hashanah). The shofar also should be bent or curved in a shape to symbolize the bent and humbled spirit appropriate on Rosh Hashanah. For more than 30 years, it has been the privilege of our senior rabbi to sound the shofar at services on Rosh Hashanah morning.
On the Eve of Rosh Hashanah 5773, Rabbi Posner, Cantor Corrsin and Rabbinic Intern Hannah Goldstein will officiate in the Main Sanctuary (Fifth Avenue at 65th Street); Rabbi Ehrlich, Rabbi Zeidman and Cantorial Intern David Mintz will officiate in the Lowenstein Sanctuary. They will switch locations for the Day of Rosh Hashanah. Services from the Main Sanctuary (Rosh Hashanah eve and day) may be heard via
live audio stream
on the Emanu-El website, through the
Emanu-El audio player
after completion of the live service, or as
podcasts
. (MP3 files are available for one week after the service.)
College students, both Temple members and non-members, who do not already have seats are invited to join us for High Holy Day Services in the Lowenstein Sanctuary. Simply present a current college ID at the Beth-El Chapel entrance on Fifth Avenue on the day of the service, and you will be given an entrance ticket for that service. The Beth-El entrance is open 30 minutes before each service.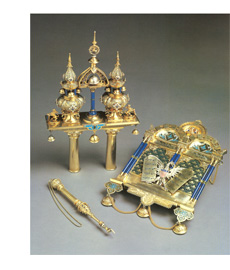 Back to Holy Days & Festivals