Ki Teitzei (September 17, 2016)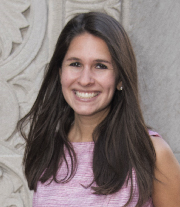 Jackie Schreiber,
Program Director, Faculty & Family Engagement
Ki Teitzei is a parashah filled with mitzvot.
We are not necessarily expected to fulfill each one of these mitzvot, particularly because some are rather circumstantial. However, the humanistic values and themes that come out of this portion remind us about our obligation to help others around us, even when it feels like we must go out of our way to do so.
If one finds a lost object, then it is our duty to try and return it to its owner. How many times do we see lost items and think nothing of them? In some situations, it may seem natural, as one would hope that a lost dog would be returned to its proper owner if that information were known. But when people find other valuable items, there is not always an attempt to contact the owner. Someone may not be taking the items for themselves, but they're also not necessarily trying to perform the mitzvah of actually finding the owner in some way. We are told that we must not remain indifferent, and this means that we cannot hide from doing what is right.
In this
parashah
, we also are commanded to leave crops and fruit from our fields behind for the poor and to pay our workers on time. While most of us don't have fields today in Manhattan, how often are we going out of our way to buy extra food and to donate unused items to those who are hungry? And, when we've hired people for various tasks, we may not always be quick to pay them, and we let that debt build up. We should pay them on time, as they rely on the money to survive, but many times we do what is convenient, rather than what is right. These may seem like straightforward commandments, but if we think deeper about the rationale behind each of these mitzvot, then we can see that they require a level of thoughtfulness that isn't always so easy, even if it's the correct way to act.
A couple of years ago, I traveled to the Thai/Burma border with American Jewish World Service on a trip for graduate students. We met with Burmese refugees and NGOs that were working to improve the situation of minorities living in Burma. Many of the people with whom we met had risked their lives to help save their families and those in their communities. We discussed the concept of moral courage and the ability to speak the truth in the face of silence, even when alone. When asked what moral courage looked like in my life, I struggled to find personal examples, as did many others in my group. While I always have been taught to be an "upstander" rather than a bystander, I recognize that it's much easier said than done. It's one thing to see and acknowledge injustice, but courage is about what we do and how we act in spite, or in light, of the risks.
In our Religious School, we teach our students what it means to be a
mensch
, and we explain that it's not just about doing as you're told, but it's really about going above and beyond for others. When we see something that appears to be wrong, like a stray ox wandering on the road, it is our duty to act and not to ignore it. This year, our students will learn about Hillel's quote, "If I am not for myself, who will be for me? If I am not for myself, what am I? And if not now, when?" It is one of the most famous teachings from our tradition, and it is taught because it has so much applicability — I even used it in my college-admissions essay. The power is in our hands to help others, but more often than not, we need that little extra push of motivation to get us to stop being passive and to act instead.
Ki Teitzei
reminds me that I must continually reach beyond my daily routine to stop and recognize that there is a whole world around me that I have an obligation to support. I have been blessed in so many ways, and this means that I am in a position to do more, not less. As we start this new school year and prepare to celebrate a new Jewish year, I know that I cannot neglect my responsibility of doing my part in healing the world.
---
WHAT DO YOU THINK?
Join the conversation and post your thoughts. »
Back to Torah Study