Balak (July 23, 2016)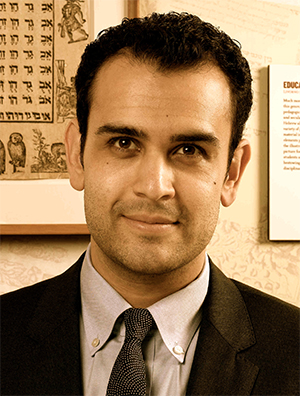 Warren Klein, Curator, Herbert & Eileen Bernard Museum of Judaica
Monday, July 11, marked the 18th anniversary of my bar mitzvah, and the parashah that I read was Balak.
Balak is the king of Moab who wants Balaam to curse the Israelites because he fears their numbers, but instead Balaam ends up blessing them three times. One of the blessings includes the
Mah Tovu,
which is incorporated into our morning liturgy. During Balaam's journey to see Balak, God sends an angel to which only the ass reacts and leads Balaam off his path. Balaam becomes increasingly angry and beats the ass until the Lord opens the ass' mouth to say to Balaam, "What have I done to you that you have beaten me three times?" God makes Balaam see the angel, and Balaam now reveres God and therefore can only bless the Israelites and not curse them, as Balak intended.
On a recent trip to visit my parents in California, I found a copy of my speech neatly filed in a box of old papers from my childhood. I thought it would be fun to revisit what I was drawn to as a 13-year-old in the
parashah.
I was fascinated by Balaam's talking ass. I used my day school education and compared the talking ass to the only other animal in the Torah that spoke, the serpent in the story of Adam and Eve. I had an interesting theory of why animals spoke in the Bible and what we can glean from them, and in the end, I decided we must be kind to them because you never know when they are trying to tell you something. I'm not sure I turned out to be the animal lover I was at 13, but nonetheless it was fun to revisit what I wrote.
After reading the
parashah
with fresh eyes, I still was able to draw some insights from my bar mitzvah
d'rash.
For instance, in my speech, I compared the evil Balak, who wanted to curse the Israelites, to the serpent and also Balaam, who listened to God and only spoke what God told him, to the ass, who saw the angel of God before Balaam did.
One important lesson we can learn from this
parashah
is to notice how Balak is an insecure figure: He fears the Israelites, but he doesn't know them; he even pays Balaam to curse them. In today's world, there is still so much fear and insecurity from the unknown or from the other, whether it be a large group like the Israelites were to Balak or a single stranger. The unknown and insecurities lead us to hate and unfair judgements, and we should be on the lookout for signs to educate ourselves, to reach out, and to not let our fear and hate guide us.
---
WHAT DO YOU THINK?
Join the conversation and post your thoughts. »
Back to Torah Study