Vayak'heil (March 5, 2016)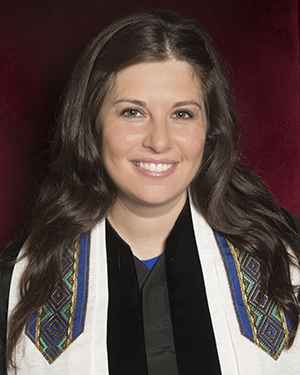 Rabbinic Intern Toba Schaller
In this week's parashah,
we read an incredibly detailed description of the Israelites building of the
Mishkan
. Most of these details we are seeing for the second time in just a few weeks. Some of them we will hear three times before the
Mishkan
finally is built and Torah moves on. All in all, Torah devotes 13 chapters to telling us exactly from what the
Mishkan
was made and how it was built. We read God's instructions, we read as the Israelites follow those instructions, and then we read about the outcome. For a text usually known for brevity, Torah certainly focuses a great deal on the details of this sanctuary for God's presence.
While our tradition has passed down quite a few interesting discussions about these specific details (you aren't the only one wondering where they got those dolphin skins!), I find a valuable lesson in taking a step back and asking why we are given so many details.
In Exodus 25:8, God tells Moses to begin the instructions by explaining the goal. The Israelites are tasked to, "Make Me a sanctuary that I may dwell among them." While we interpret this literally and believe that God needs a physical house decorated in lapis lazuli, this introduces a few theological issues. Does God really need a little house?
Instead we might understand the incredible amount of detail and description of the
Mishkan
's construction as an emphasis on the process of creation rather than the outcome. Maybe it is not the lavish portable Tabernacle that will allow God to dwell among the people but rather the long and detailed group project that will bring them close to one another and to God.
The greatest group project I've ever been a part of was my wedding. My husband and I wanted our friends and family to be a part of the event, and frankly, as a writer and a rabbinical student, we couldn't really afford to throw the party all on our own. So we asked a DJ friend to provide the music, a brewer friend to bring the beer, and my aunt's sewing group to make our chuppah. My dad's best friend built the chuppah poles, our rabbinical student friends led parts of the ceremony, my mother-in-law made most of our decorations, and her sisters and cousins set up the tables for the reception. Our friends and family came together and helped us turn a summer camp into a fall wedding venue, and I spent months organizing the logistics and questioning the choice not to hire a wedding planner. But by the time my husband and I officially were married in the camp chapel, everyone was crying as much as we were. Our wedding wasn't fancy, but it was beautiful, meaningful and certainly holy because so many people were a part of it.
As I look back to that moment when my husband I celebrated the new home that we were beginning to build (with the help of all our friends and family), I imagine what it felt like for the Israelites to come together to build community and relationships, as they built a home for God within their midst.
There are so many times when it may be easier to do things ourselves, when a group project means more time and more energy and certainly a focus on details and logistics, but this
parashah
reminds us that working together can be Divine.
---
WHAT DO YOU THINK?
Join the conversation and post your thoughts. »
Back to Torah Study