Va-y'chi (December 26, 2015)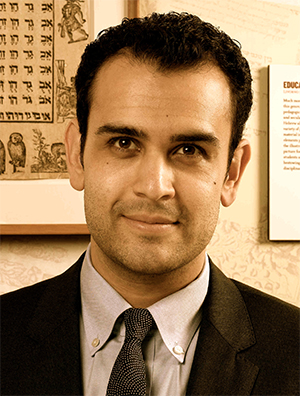 Warren Klein, Curator, Herbert & Eileen Bernard Museum of Judaica
IN THIS WEEK'S PORTION,
we come to the end of the book of Genesis where Jacob is on his deathbed. He is reunited with his son Joseph and meets for the first time his grandchildren, Ephraim and Manasseh. Jacob then assembles his 12 sons together and speaks to each one individually, naming their strengths and speaking of their character. Jacob then gives instructions as to where he is to be buried.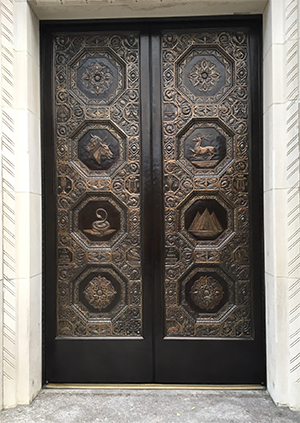 (Click on image to enlarge)
Chapter 49:28 reads: "All these were the tribes of Israel, twelve in number." Each son or tribe is listed and described or highlighted as a symbol of his strength. For instance, Judah is described as a lion, Zebulun shall dwell by the seashore, Dan shall be a serpent by the road, and Issachar is a large-boned ass, just to name a few. These descriptions of each brother or tribe have been illustrated over time and have been a favorite source of imagery for synagogue decoration from ceremonial silver to stained glass windows. One must not look further than the doors to our Fifth Avenue Sanctuary, and the doors to the entrance of 10 East 66th Street to see these symbols.
There are possibly a number of different reasons why the imagery of the 12 tribes was so attractive to the architects and builders of Temple Emanu-El. With a closer look at the text and thinking about some of the leaders in our own congregation, I think we can think of each brother or tribe as representing a group within our own community. Groups come together to create and build a community, and we are all the children of Jacob. Each of us has his or her own individual strength that we bring to our own group or tribe; one person might be a great organizer, the other a great cook, and someone else a great leader. It is important to take the time to acknowledge each other for our strengths and differences because in my mind that is what makes us a community or a tribe, just as Jacob listed to his offspring.
While the doors at 10 East 66th Street list the tribes by name and have an image of their symbol, the doors on Fifth Avenue are just represented by the symbols. I think that these symbols are reminders of the great community that lies within the doors, the diverse community that comes together as one family.
Note: The bronze doors on Fifth Avenue were made by General Bronze Corporation
and recently were restored to their original patina.
---
WHAT DO YOU THINK?
Join the conversation and post your thoughts. »
Back to Torah Study