T'tzaveh (February 28, 2015)

Mark Heutlinger, Administrator
WE RECENTLY READ
in the Torah about the Israelites' covenant with God at Sinai. In addition to instructions governing behavior, God has given a highly detailed "blueprint" for the design of the Tabernacle in the desert, commanding the people to "Make Me a Sanctuary that I may dwell among them," words inscribed above the eastern entrance of our own sanctuary.
Parashat T'tzaveh
continues this theme of specificity as the Israelites are told to bring "clear oil of beaten olives" for the daily lighting of the lamps inside the Tabernacle, which is performed by the High Priest Aaron and his sons.
Clear
and
beaten
are examples of the particularization of God's commands and appear at the very beginning of the
parashah
.
---
LIGHTING THE LAMPS
---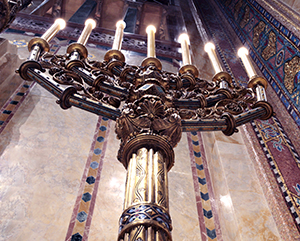 Menorah,
Fifth Avenue Sanctuary
(photo by Laszlo Regos)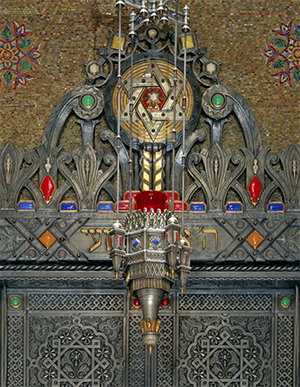 Ner Tamid (Eternal Light),
Beth-El Chapel
(photo by Brian Rose)
Further, and with equally elaborate detail, God describes the "sacral vestments" to be made for Aaron, their richness and beauty giving him "dignity and adornment" befitting the High Priest serving
Adonai
. Among his garments are the Breastplate of Judgment, bearing 12 stones, each inscribed with the name of a tribe of Israel; a turquoise robe decorated at the hem with pomegranates made of yarn, each alternating with a golden bell so that Aaron can be heard entering and leaving the sanctuary; a richly embroidered apron-like vestment called an
ephod
; a headdress of fine linen. God wants the appearance of Aaron to be easily identifiable; his sons are to have their own wardrobe, also to be distinguishable.
The specifics get bloody when God lays out His instructions for the ordination of the High Priest and his sons as priests in purification rituals involving animal sacrifice and lasting seven days. The
parashah
concludes with instructions on the burning of incense on an altar that is also richly described. This is to be done in tandem with the tending of the lamps. Finally, it is commanded that the altar be purified annually with the "blood of the purgation offering."
So what is learned? God knows precisely what He wants. He makes it crystal clear. He establishes the specific appearance of ritual objects and garments and also places significant emphasis on how rituals are to be conducted. Attention to detail is at the heart of this
parashah
. By attending to even the smallest details, an individual finds comfort in the precision of carrying out his or her life's work. But within that strict orderliness there is also the concept of adornment. The priestly garb is the metaphor. Its exactitude of style is enhanced by the beautiful coloration of the materials themselves.
When we are inside Emanu-El's sanctuary we should remember that its beauty is a reflection of God's command to the Israelites. Not only did we build a house for Him to dwell within, we adorned it exquisitely in keeping with our ancient tradition.
---
WHAT DO YOU THINK?
Join the conversation and post your thoughts. »
Back to Torah Study