Vayishlach (December 6, 2014)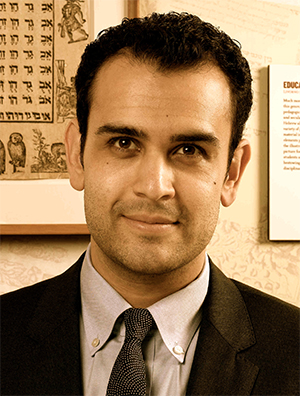 Warren Klein, Interim Curator, Herbert & Eileen Bernard Museum of Judaica
SOME OF THE THEMES
I noticed while reading
Vayishlach
are movement, relocation and reuniting. Jacob is moving and relocating his family; he physically wrestles with an angel; and he reunites with his twin brother, Esau. These events led me to think about some of the current events in my life that seem to reflect the transitory and transitional nature of this week's
parashah
. For instance, some of the things that have been on my mind lately are moving into a new apartment, exercising more frequently and, especially relevant, reuniting with my brother this Thanksgiving weekend.
It has been a few chapters since Jacob last saw Esau. I am not sure how many years this is, but either way, Jacob seems nervous to see his brother again. Jacob is anxious about this reunion because he and Esau did not part on the best terms. As a precaution, Jacob sends messengers to Esau to alert him that he comes in peace and seeks forgiveness. Jacob discovers that Esau is coming along with 400 of his men. Fearing the worst, Jacob splits him camp and family into two parts. To Jacob's surprise Esau embraces his brother.
I always have taken comfort from and found meaning while reading biblical narratives to compare the interpersonal relationships to ones in my own life, whether they are father and son, sibling rivalry or even romantic relationships. Finding a common connection with these biblical narratives often helps me sort out something afflicting me in my own life.
This weekend, my younger brother will be visiting me from California for the long weekend. Although our sibling rivalry days are behind us (or so I'd like to think), we never shared the depth of rivalry of Jacob and Esau. There was no birthright stealing or favoritism among parents, but we did have our fair share of disagreements and maybe even a bit of jealousy growing up. And, I admit that I still sometimes feel a tinge of concern like Jacob did upon reuniting.
I see my brother about four times a year, and we talk regularly on the phone, but still, lately, I have felt the burden of having my family so far away. We do our best to keep each other informed about our daily lives and important events, but I often find that it is our sense of self and our general state of being that sometimes gets lost in the distance. Or perhaps it is the distance that that makes these bonds stronger, and maybe this is why Esau was able to forgive and forget so easily?
---
WHAT DO YOU THINK?
Join the conversation and post your thoughts. »
Back to Torah Study