D'varim (August 2, 2014)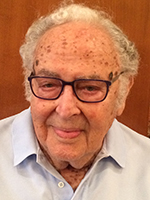 Max Moss
UNLIKE THE PRECEDING BOOKS
of the Bible, which were dictated directly by God,
D'varim
("Words") represents a revelation that Moses phrased in his own words. This might appear to be a disadvantage, for the words of God would be superior to any mortal's. Still, it reached a high level of compatibility with the human mind.
Here was a generation about to enter the Promised Land. In effect, they were in need of direction from one of their own in their own words. Moses' subtle rebuke included their desire to return to Egypt when they complained, "If we only had died in Egypt." What a stiff-necked people — no imagination as to what might be! Where was their faith? Understandably they wandered the desert following the word of God through Moses. Did they really have a choice? And neither did Moses for he knew he could go no further.
And as
D'varim
explains, Moses began to explain the Torah in
70
languages. Why 70? Certainly the Israelites were not versed in 70 languages. The explanation given by Rashi is that Moses, for the Torah's sake, offered this sacred document to other peoples so that they may understand its holiness and from where we are coming.
And thus our heritage continues...
---
Max Moss is a long-time member of Temple Emanu-El and a regular participant in our Saturday morning Torah study group.
---
WHAT DO YOU THINK?
Join the conversation and post your thoughts. »
Back to Torah Study