---
Sabbath services at Temple Emanu-El are held Friday evenings at 6 PM (EST/EDT) and Saturday mornings at 10:30 AM in the Fifth Avenue Sanctuary (Fifth Avenue at 65th Street), unless noted otherwise. An organ recital precedes Friday evening services, starting at 5:45 PM, and Saturday morning services, starting at 10:15 AM. An Oneg Shabbat follows all Friday evening services. On Saturdays at 9:15 AM, worshipers are invited to join us for our Weekly Torah Study. Enter at the Marvin and Elisabeth Cassell Community House, One East 65th Street.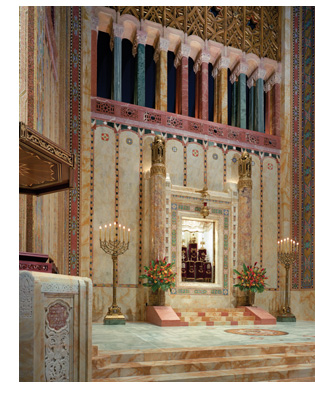 Please mark your calendars for the following special Sabbath services...
•
Interfaith Celebration
Guest Speaker: The Very Rev. Dr. James Kowalski,
Dean, The Cathedral of St. John the Divine
(Friday, November 20, 2015)
Listen to Rabbi Davidson's opening remarks
and Rev. Dr. Kowalski's sermon >>
•
Installation of Our Assistant Rabbi
(Friday, December 4, 2015)
•
Volunteer Recognition Shabbat
(Friday, December 11, 2015)
•
Human Rights Shabbat
(Friday, December 18, 2015)
---
To listen to the most
recent services,
launch the audio player »

Among the things unique about Temple Emanu-El is its continued use of the Union Prayer Book in its worship. Conceived in the late 19th century by the growing Reform Movement in America, the Union Prayer Book (ultimately revised several times) is a work that combines the essence of Jewish tradition along with a spirit of classical dignity. By evoking the feeling that prayer is truly different, use of the Union Prayer Book is an attempt to reach a mode of thinking and feeling that transcends the ordinary here and now and that seeks the realms of the sublime.
View our monthly
preaching schedule »
Another notable element in Temple Emanu-El's services is the role of our cantor, organists and professional choir members, who bring to life some of the greatest music ever composed for the synagogue.
View the listing of this week's music program »
---
Additional Services
Temple Emanu-El is pleased to offer
Shir Chadash
("A New Song")
, a new Friday evening service in a new style. This service features a contemporary liturgy interspersed with Chasidic tales and other teachings. The music, led by a vocalist and instrumentalists, is informal and participatory. All are welcome! Services are monthly after the High Holy Days.
Watch a brief video »
For those who would like a moment of prayer during the week, Congregation Emanu-El offers a
Sunset Service
, held Sunday through Thursday at 5:30 PM in Greenwald Hall. (Enter at One East 65th Street.)
For our preschool through second grade families,
Tot Shabbat
offers a creative and age-appropriate service that incorporates singing, movement and storytelling. And new this year,
Baby Shabbat
is a 30-minute program for younger siblings of Nursery School children and any others younger than 33 months. Baby Shabbat will meet on four Fridays.
At
Shabbat Kodesh Family Worship Services
, Hebrew prayers are sung with lively melodies, and the weekly Torah reading is made meaningful through creative storytelling. All are welcome at this service, which builds upon the curriculum and community of the Religious School. Services are followed by an
Oneg Shabbat
.
At
Saviv Shabbat,
we explore the cutting edge of experimental Jewish ritual. Through a combination of traditional prayers, popular songs, new Jewish rock, silent prayer and learning, we push the limits of prayer as we strive to connect with God and one another. Dinner follows some services. Saviv Shabbat is for people in their 20s and 30s.
---
A Note About Our Sanctuaries...

Temple Emanu-El is proud to provide an induction loop system in our Fifth Avenue sanctuaries to assist those members of our congregation as well as visitors who may be hard of hearing. Hearing aids must be switched to the "T" (telecoil) setting. Infrared assistance listening devices also are available for use in all of our sanctuaries, including Greenwald Hall and the Leon Lowenstein Auditorium. Portable receivers and headsets or neck loops are available from a lobby attendant or usher; picture ID is required.
---
Are you part of a congregation or other group (generally 10 people or more) planning on visiting Emanu-El during worship services?
Please alert us to your date of arrival so that we may welcome you!
Click here
or call the Temple Office at
(212) 507-9511
.
Back to Worship