---
Temple Emanu-El's Tikkun Olam Committee has organized various projects to support our troops overseas, including packaging mishloach manot baskets for Purim, writing Chanukah cards and wrapping Chanukah gifts, and sending phone cards for the High Holy Days. Following are excerpts from several notes of appreciation that we have received in response to our efforts.
We are very happy to share them here…
---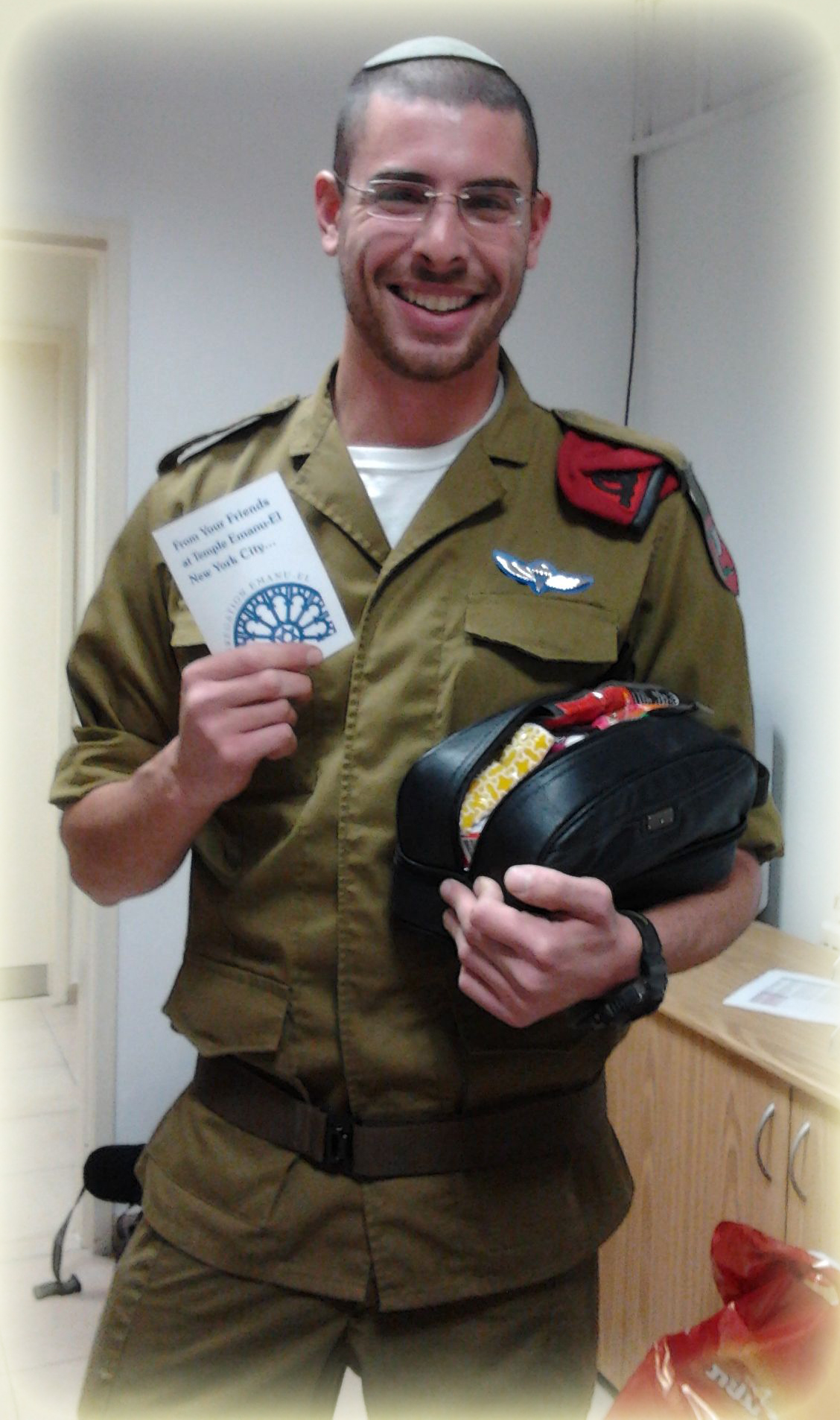 Thank you so much
for your generous donation! I'm here in the army by myself, with no family in Israel to help me. I was really touched that people all the way in New York, people who I don't even know, would be so kind and help me out. It makes me happy to serve Israel and protect our nation! Thank you again!
— Yitzhak Cohen (Lone soldier* from the U.S. serving in the Combat Engineering Force)
*In the Israel Defense Forces,
"
lone soldiers
"
are servicemen or women without parents in Israel. As part of Mitzvah Day 2012, congregants assembled support kits for soldiers in the Israeli army. Rabbi Ben Zeidman, Lifelong Learning Director Saul Kaiserman and Temple families delivered the packages in December 2012 during the Emanu-El family trip to Israel.
---
My name is David.
I am 22 years old from Brooklyn, N.Y I am a lone soldier serving in Golani Brigade 51st Battalion as a squad commander. I just want to say thank you for all of your help and support. You don't know how much this means to us lone soldiers. We really love your care packages that we receive through the Jewish agency. It helps alot, especially when you're living with 10 other soldiers. So, thank you very much, and I hope to see you in Israel.
— David S. (Lone solder from the U.S., serving in Netzach Yehuda)
---
Thank you so much
for the special gift you have given me and for being part of this special cause to look after "lone soldiers." My army experience would't be the same if not for people like yourselves looking after us.
It was really nice and thoughtful for beign there for me on this very special day of my "swearing in ceremony."
May G-d bless you and your families for your kindness.
— Dovid Mayteles
---
Thank you so much
for the beautiful care packages that you sent our soldiers, sailors, airmen, foreign service officers and contractors here at the U.S. Embassy in Baghdad. We had a table of these beautifully wrapped gifts at our Chanukah party, and everyone was so touched by your kindnesses.
— Elizabeth Robbins, Major, U.S. Army
---
Shalom from Iraq!
Here at Camp Victory/Slayer in Baghdad, there is a group of 15 to 20 of us who meet for Shabbat and holiday services, and we all have very much enjoyed the packages that you sent. They are great contributors to morale and a feeling of
Klal Yisrael
!
— Avi Weisberg
P.S. While in New York for college, I passed by your beautiful building many a time!
---
As you may know,
it gets a bit lonely here in Iraq, and to know that someone is there [who] cares, loves and supports us is the best anyone can do (stateside) to help in this war on terrorism. As a rabbi and father of five children and citizen of the great US of A, I thank you from the depths of my heart.
— Rabbi/Chaplain Ira Ehrenpreis, Camp Liberty, Baghdad
---
Thank you very much
for the Thanksgiving/Chanukah care package. It is wonderful to receive such support from the Jewish community at home. It is difficult to be away from home for the holidays, but I was able to play dreidel just like every year, thanks to your package. Again, I can't thank you enough for your support!
Chag Samei-ach.
— Sgt. Dena Acevedo
---
I am a member
of a small Jewish congregation that meets regularly at Camp Victory [in Iraq] on Fridays for Shabbat. We are a mix of all armed services but mostly Army and Navy, along with some Defense Department civilians and contractors. We have a wonderful active duty Army Rabbi stationed nearby, but he cannot always attend because he often travels to other Forward Operating Bases throughout Iraq to visit and support other Jewish soldiers. We all try to make services as best we can, but sometimes operational requirements prevent us from doing so. I personally very much enjoy our services as they give me an opportunity to relax, give thanks, reflect and say a few blessings and prayers...especially after a tough week here.
My purpose in writing to you is to thank you very much for the phone card that I received from our Jewish lay leader after Shabbat services. I've already used it twice to call home: once to talk with my wife and once to extend birthday greetings to a relative. It was very thoughtful and generous of you to take time to "support the troops" in such a practical manner. I just wanted you to know that your cards reached the right folks and how much it was appreciated. Being able to call home makes the duty here much more bearable.
— Glenn H. Goldman, Colonel, Field Artillery, U.S. Army
Back to Volunteering