---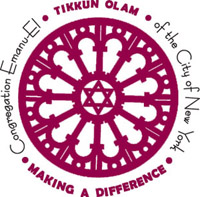 Temple members have participated in numerous volunteer projects organized by the Tikkun Olam Committee over the last few years. Following are photos from a few of these opportunities. Many thanks to the many people who have given their time…as well as to our volunteer photographers!
---

THANK YOU,
FROM FOSTER PRIDE!
(DECEMBER 2014)
As part of Mitzvah Day 2014, the Tikkun Olam Committee provided children from Foster Pride with gift bags filled with art supplies.
Read more »
---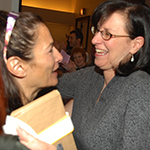 MITZVAH DAY
(NOVEMBER 2014)
As part of the 10th anniversary celebration of Mitzvah Day, the Tikkun Olam Committee revealed its biggest project yet: donation of $25,000 to build a school in Guatemala in honor of Rabbi Amy Ehrlich and her 26 years of service to Emanu-El. (Photos by Gary K. Deane)
View the photos »
---
HOMES FOR THE HOMELESS (SEPTEMBER 2014)
Temple Emanu-El's Tikkun Olam Committee and Seventh Grade Mitzvah Corps hosted families from Homes for the Homeless (HFH) for a picnic lunch, cake decorating, craft activities, and free play on the rooftop playground. (Photos by Dean Amato)
View the photos »
---
PROJECT PROM (APRIL/MAY 2014)
Project Prom is a program to make free prom dresses available
to high school girls whose families are not able to afford them.
Temple Emanu-El hosted this program in cooperation with Gala Gear. (Photos by Gary K. Deane)
View the photos »
---

CHESS IN THE SCHOOLS (OCTOBER 2013)
Temple members hosted 200 students from New York City's
Chess in the Schools program for a special invitational chess tournament.
View the photos »
---
Back to Volunteering