---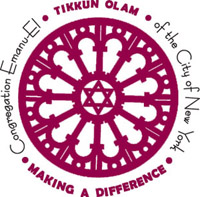 Temple members have participated in numerous volunteer projects organized by the Tikkun Olam Committee over the last few years. Following are photos from a few of these opportunities. Many thanks to the many people who have given their time…as well as to our volunteer photographers!
---
PROJECT PROM (APRIL/MAY 2014)
Project Prom is a program to make free prom dresses available
to high school girls whose families are not able to afford them.
Temple Emanu-El hosted this program in cooperation with Gala Gear. (Photos by Gary K. Deane)
View the photos »
---

CHESS IN THE SCHOOLS (OCTOBER 2013)
Temple members hosted 200 students from
New York City's Chess in the Schools program
for a special invitational chess tournament.
View the photos »
---

PURIM FOR THE TROOPS
& SANDWICHES ON SUNDAY (FEBRUARY 2009)
Temple members participate in two special
Tikkun Olam-sponsored events. (Photos by Gary K. Deane)
View the photos »
---
SPRING MITZVAH WEEKEND (APRIL 2008)

Comfort Quilt Delivery —
Temple members deliver comfort quilts and pillows created during Emanu-El's Fall Mitzvah Day 2007 directly to children who are patients at Beth Israel Hospital. (Photos by Kim Hartman)
Metropolitan Council on Jewish Poverty — Temple Emanu-El members serve Sunday brunch to low-income seniors at a housing site operated by the Metropolitan Council on Jewish Poverty as part of Spring Mitzvah Weekend 2008. (Photos by Ericka Buyco and Adriana Solmson)
Not for Artists Only! — Temple Emanu-El volunteers work alongside students from the Harbor Sciences and Arts Charter School to complete two "paint-by-number" murals on canvas. (Photos by Jonathan Slaff)
---

HABITAT FOR HUMANITY (MARCH 2008)
Temple members braved the cold weather to participate in this Brooklyn building project.
View the photos »
Back to Volunteering