---
Following is a list of projects* that have been organized
for Mitzvah Day on November 10, 2013...
SAVE A LIFE: Blood Drive (Marcia Waxman), Bone Marrow Swabbing
(Saviv, Chris Haley and Shelley Katz), Organ Donor Registry
Donate blood, undergo a cheek swab for bone marrow registry, learn about organ donation.
CHEMO ANGELS (Jill Cohen and Susanne Fischer)
Create gift bags for women undergoing chemotherapy at
Memorial Sloan Kettering
.
HAPPY CHANUKAH! (Women's Auxiliary)
Assemble 50 Chanukah gift packages for Holocaust survivors,
to be distributed by
The Blue Card
.
HELP FEED THE HUNGRY
(Miriam Reines, Arlene and Gil Gold, Shirley and Jonathan Slaff)
Prepare 300 meal bags containing sandwiches, fresh fruit, freshly baked cookies,
hardboiled eggs and trail mix/snack mix for clients of
New York Common Pantry
,
DOROT HPP
and
Jan Hus
.
STITCH'N TIME (Ellen Weiss)
Knit baby hats and sweaters, blanket squares and winter hats for clients of
Inwood House,
The New York Foundling,
Clinton Family Inn of Homes for the Homeless,
JBFCS,
the
Sunday Lunch Program
and
Room to Grow
.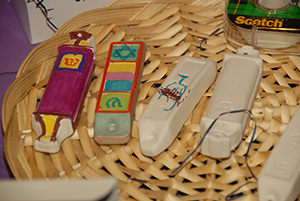 HAPPY CHANUKAH(2)! (Young Families)
Decorate Chanukah cards and dreidels filled with gelt.
BABY! BABY! BABY!
(Susan Kaufman and Lee Robbins)
Fill and wrap diaper bags for teen mothers at the
Inwood House
. Volunteers also will wrap more than 100 hand-knit baby items and prepare them for delivery to various organizations (see Stitch'n Time).
BAGEL AND BINGO BRUNCH (Sarah Janover)
Host seniors from the
Carter Burden Center for the Aging
for a bagel brunch, several games of BINGO with prizes, and a performance by the Emanu-El Junior Choir. Mitzvah Corps students will socialize with and interview our guests as part of their unit on the elderly. As they depart, the seniors will be given a "take-home bag" of food items.
HAPPY BIRTHDAY! (Jean Gould)
Assemble birthday gifts from an assortment of small items and wrap/decorate the box.
Gifts will be delivered by volunteers from
DOROT
to senior citizens celebrating a birthday.
LONE SOLDIER PROGRAM (Jodi Isman)
Prepare 50 dopp kits with travel toiletries (shampoo, conditioner, sunscreen, deodorant, razors, shaving gel, after shave, anti-mosquito spray), candy/gum and a handwritten note for Israeli soldiers in the IDF, distributed through
JAFI
.
KITS FOR HOMELESS
Assemble toiletry kits for low-income and homeless New Yorkers, to be distributed by the
Metropolitan Council on Jewish Poverty
.
FISHER HOUSE (Sarah Cohn)
Assemble 50 overnight emergency bags with sleepwear, slippers and toiletries for the wives of servicemen and veterans.
Fisher House
provides temporary residence for military families while their loved ones are receiving medical treatment in nearby hospitals.
SWEET TREATS
Volunteers will assemble candy "treat bags" to be donated to various organizations.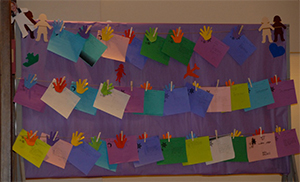 WINTER WISHES (Joan Ai and Shelley Katz)
Emanu-El congregants once again are asked to fulfill the "holiday wishes" of 125 children/teens of low-income families from the
Association to Benefit Children
. Wishes will be distributed on Mitzvah Day, and the donated gifts will be wrapped on Mini Mitzvah Day (Sunday, December 8).
COAT DRIVE (Eileen and Kat Ames)
Sort through, pack and prepare for delivery to
New York Cares
donations of winter coats and jackets.
WOMEN'S SHELTER @ THE ARMORY,
LENOX HILL NEIGHBORHOOD HOUSE (Karel Greenberg)
Volunteers will assemble 80 gift packages for homeless women suffering from mental illness who reside at the
Park Avenue Armory
. Packages will contain toiletries, cosmetics, a tote bag, shower shoes and a towel.
RAINBOW LOOM FRIENDSHIP BRACELETS (Harry Fins)
SENIOR YOUTH GROUP TEEN PROJECT
Pack thermos bottles with instant soup, tea and coffee, to be distributed by members of Temple Emanu-El's Senior Youth Group to the homeless at
Midnight Run
in February 2014.
* List of projects is subject to change
Back to Mitzvah Day