---
Hamantaschen are the traditional Jewish cookies served at Purim, noted for their three-cornered shape. Several theories exist about the origin of the cookie's name.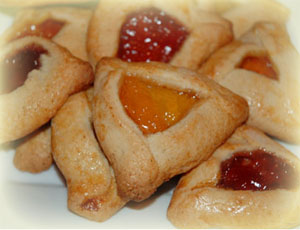 One is that they
originally were called "mon-taschen," which is Yiddish for "poppyseed pockets" — poppyseed being the traditional filling. The most commonly accepted theory, however, ties the name to Haman — the villain of the Purim story — who supposedly wore a three-cornered hat. Whether called
mon-taschen
, Haman's pockets or Haman's ears, they're delicious, and we're happy to offer the following recipes submitted by members of our Temple staff.
Back to Celebrate Purim!