---
High Holy Days seating reservations at Temple Emanu-El are a benefit of membership. Members are welcomed warmly any time of the year.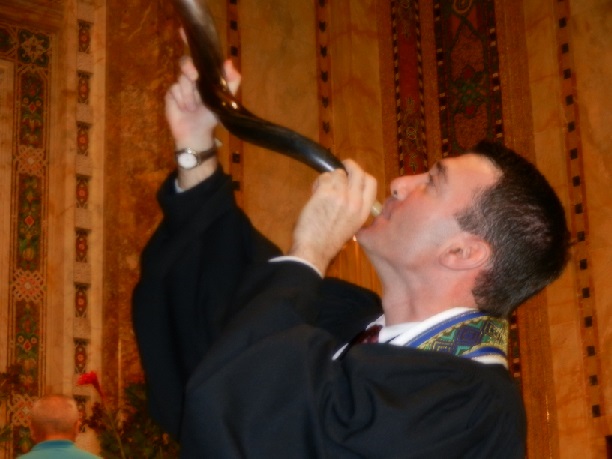 As part of High Holy Day services in 5776,
we once again will be adding an evening service to each holiday (8 PM on the Eve of Rosh Hashanah and 5:30 PM on the Eve of Yom Kippur), when no services currently are scheduled. Services will be held in the Lowenstein Sanctuary and are expected to be somewhat shorter than our formal services.
A
Temple Membership Application
must be completed by each individual or couple in order to start the process and along with it the
Seating Preference Form
for High Holy Days. Current Temple members must
RENEW
their Temple affiliation.
As a member, your annual membership contribution is determined in part by the number of seats you require for the High Holy Days and their specific location, subject to availability.
Pew Plans
for both the Fifth Avenue Sanctuary and the Leon Lowenstein Sanctuary are available to help you complete the Seating Preference Form. Please note, we cannot guarantee that a requested seating assignment will be available on receipt of your application. However, if we are unable to provide seating in the section requested, your name will be placed on a waiting list, and temporary seating will be provided for you until your preferred seating becomes available.
Please be assured that we always will have room for you and your family members in one of the congregation's two sanctuaries. College students, both Temple members and nonmembers, who do not already have seats are invited to join us for High Holy Days services in the Lowenstein Sanctuary. Students must present a current college ID on the day of the service to enter. We also host community worship services, open to the public in I.M. Wise Hall (One East 65th Street), that feature audio from the Fifth Avenue Sanctuary services. No reservations are needed.
TICKETS & ADDITIONAL RESERVATIONS:
Notices for seating renewal are sent in June, which is the start of the congregation's fiscal year. Members of the Temple with existing seating assignments will have the opportunity at that time to reserve the same seats or add, release or request to change their seats. Renewal of seating is not automatic; renewal forms MUST be returned to the Temple Office by the date specified.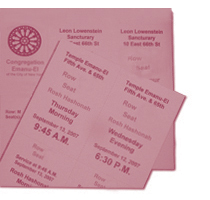 Additional seating reservations may be purchased and added to your membership account anytime after the first seating renewal notice is received. A High Holy Days guest ticket fee of $125 for one service and $250 for multiple services per person will be instituted. We do our best to provide seats as close to your existing reservations as possible. Each member with a seating reservation will receive a set of tickets for all services. Tickets are mailed two weeks prior to the High Holy Days.
Tickets for the Family Worship services are available at no additional cost to all members with young children and to all our Nursery School and Religious School parents who wish to attend services with their children and extended families.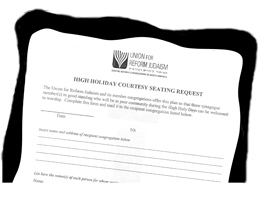 SEATING RECIPROCITY:
Temple Emanu-El members in good standing who will be out of town during the High Holy Days may obtain a Courtesy Seating Form to present for admission to another
Union for Reform Judaism
member temple. Similarly, Emanu-El will provide complimentary tickets for out-of-town relatives of members or out-of-town visitors who arrange for courtesy seating through their home congregation.
If you are affiliated with another temple and wish to attend services at Temple Emanu-El, please call your home temple and ask them to forward a Reciprocal Seating Request Form to us. This process takes time to complete, so please plan ahead.
Reciprocal tickets to attend services at Temple Emanu-El
are held for pick up at the Beth-El Garden Entrance door just prior to services.
All questions regarding seating, tickets and reciprocity
should be directed to the
Temple Office
.
Back to How to Become a Member