---
Membership dues at Temple Emanu-El are are necessary in order to adequately sustain the diverse services and programs offered to our members.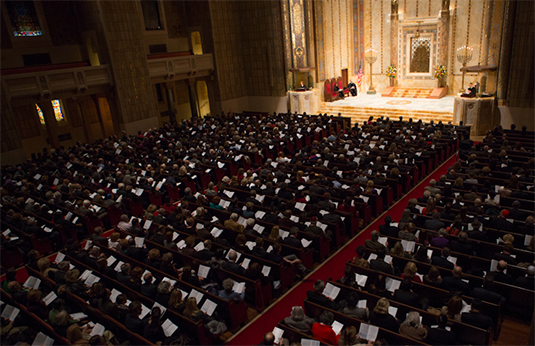 Photo by Will Star, Shooting Stars Pro
The minimum membership contribution
for the fiscal year beginning
June 2015
is
$1,490
. We currently offer two exceptions to this: a reduced rate for
Associate Members
(individuals between age 21 and 29) and a
Full Family Membership
. New this year: A security fee, similar to that charged by other congregations, will be applied to each member household. The fee is $100 for one-adult households and $200 for two-adult households. This fee will ensure that rising security costs are covered adequately.
Dues are billed in June each year and cover most aspects of membership in Temple Emanu-El, including services by the clergy, use of the facilities, access to member-only events and services, and special consideration at events open to the public. Dues also are a credit toward seating during the
High Holy Days
.
---

Current Temple members may RENEW their membership and seating reservation/s, pay Religious School tuition, join our auxiliaries and make donations through our secure online credit card form. Every member has preference for the seating they occupied in the past; however, renewal is NOT automatic.

Prospective Temple members should download and complete
an application for Temple membership and return it with a check for membership
dues to the Temple Office.
---
Sanctuary Seating
In order to accommodate our large congregation, seating at services for the High Holy Days is handled by specific seat assignments in two sanctuaries: the
Fifth Avenue Sanctuary
and the
Leon Lowenstein Sanctuary
on 66th Street. Contributions are dependent on where the seats are located. Should you wish to have seating for the High Holy Days, your dues will be based on the contribution per seat. Should you require only one seat valued at less than the minimum of $1,490, then the minimum contribution will apply.

Refer to the following tables and examples for the contribution per seat:
LOWENSTEIN

| | |
| --- | --- |
| Per Seat | Section |
| $1,555 | A |
| $1,360 | B |
| $1,215 | C |
| $ 980 | D |
FIFTH AVENUE SANCTUARY

| | | | |
| --- | --- | --- | --- |
| Per Seat | Section | Per Seat | Section |
| $3,180 | E | $1,085 | J |
| $2,445 | F | $ 940 | K |
| $1,820 | G | $ 910 | L |
| $1,535 | H | $ 810 | M |
The number of seats that can be assigned for the basic minimum dues is limited. If you already have paid the basic amount and subsequently want seats, your prior contribution will be considered a credit toward the total cost of all the seats you reserve.
►
EXAMPLE 1
You want
1 seat
in
Section J
—Seats are
$1,085 each
.
Your dues will be
$1,490
(minimum contribution applies).
►
EXAMPLE 2
You want
2 seats
in
Section J
—Seats are
$1,085 each
.
Your dues will be
$2,170
. You do not have to pay an additional
$1,490
.
►
EXAMPLE 3
You want
5 seats
in
Section J
—Seats are
$1,085 each
, and you already have
paid
$1,490
. Your dues will be
$5,425
. You will be billed for the balance,
$3,935
.
Download a
Seating Preference Form
to request your seats for the High Holy Days.
---
Additional Fees
Small additional fees are required for membership in our Temple auxiliaries,
the
Men's Club
and the
Women's Auxiliary
.
Enrollment in Temple Emanu-El's
Religious School
is open to children of Temple members only. In addition to the fees for Temple membership, families will be charged tuition for each child enrolled. The tuition rate for the current fiscal year is
$1,225
per child
($50 discount per student if registration forms and payments are received by July 31, 2015)
, which includes books and supplies.
---
QUESTIONS ABOUT DUES AND SEATING?
Contact our
Membership Director
.
Back to Membership