---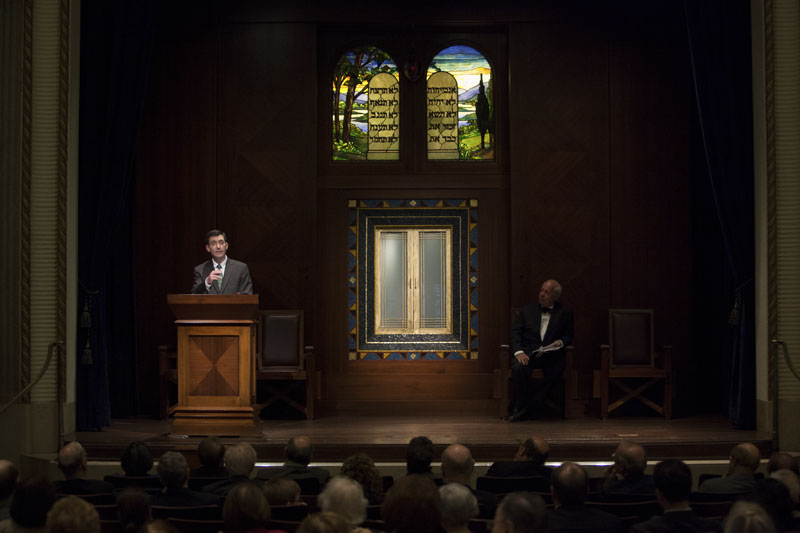 The following remarks were delivered by Temple Emanu-El's
newly elected senior rabbi, Joshua M. Davidson, at the Annual Meeting of the Congregation on May 30, 2013...
Our name Emanu-El means
"God is with us."
Parashat Sh'lach L'cha
tells the story of how the Israelites, at the threshold of the Promised Land, seem to forget that God is with them. Doubting God's protection, they dispatch 12 scouts into the Land to bring back a forecast of what the future will hold if they choose to enter. You know the tale. Two of the scouts bring back a hopeful report: The Land flows with milk and honey, they say. Its bounty is extraordinary, the future ripe with promise. But, the other 10 spies, while acknowledging the Land's beauty and fertility, see only the obstacles that lie ahead: the fortified cities and the giants that dwell therein. The optimists try to buoy the people's courage, to reassure them that if they have faith in God and in the future, all will be well. "Let us by all means go forward," they urge, "for we shall surely overcome." But the people refuse to listen. One of the optimists was named Joshua. They stoned him. It shouldn't happen on Fifth Avenue!
I know that leading the Jewish people isn't easy, especially today. The disquieting trends in American Jewish life — unchecked assimilation and secularization, increasing ambivalence toward Israel, dwindling affiliation rates, widespread Jewish illiteracy — all place a constant burden on synagogues to prove their relevance.
And yet, while it would be easy to look at that landscape and despair, we also must note that its soil has sprouted some of the richest creativity the Jewish community has ever known — in art, in music, in learning, in prayer, in community activism…opportunities all blossoming right here in this Temple.
Congregation Emanu-El of the City of New York is aptly named. Historically, the city's Jewish and non-Jewish communities alike have viewed this synagogue as Manhattan's central Jewish address. Now, together in partnership, building on Emanu-El's myriad successes — its educational and cultural programs, worship unique in elegance and beauty, and an unmatched commitment to
tikkun olam
— you and I will nurture a future that honors that historic past. Emanu-El will remain a central hub in the lives of its members and become a magnet for the enormous numbers of disconnected, uninspired Jews around us. We will embody a Judaism engaged with the critical issues of our time and a Judaism that emboldens us to face with faith the challenges present in our own lives.
The biblical tale of the Israelite scouts addresses us as a community. And, it calls to us as individuals with our own hopes and aspirations. As the scouts were invited to taste the sweetness of the future's promise in the fruit of the Land, so too are we invited to dream of a Promised Land called "Tomorrow." "The story of the spies is the story of us all," writes Rabbi Lawrence Hoffman. "Before we buy a new home, we [may] scout out the neighborhood.... Before a job interview, we may surreptitiously saunter through the halls, imagining what it would be like to work there."
I imagined what it would be like to work here, to be the senior rabbi of Temple Emanu-El, before my first interview. I knew it would be wonderful, but how could I ever have imagined I would be welcomed as you have welcomed me? In a very short time I have grown so fond of the clergy, the staff and the many Temple members I have met...and of your extraordinary leaders. No words could convey the depth of my thanks to them, especially to Temple President John Streicker and Search Committee Chair Marcia Waxman and those she led.
I know that the years ahead will be full of joy for me; for my wife, Cantor Mia Davidson; and for our children, Lena and Mikaela, as we join this Temple family. I hope they will be years of great excitement for you, too.
You have entrusted me with the opportunity to lead you. I will not disappoint you. As long as I have wanted to be a rabbi, I have wanted to be a congregational rabbi, to serve a Temple family. A congregational rabbi must be many things: a teacher, a visionary, a goad and at times a nudge. But, at his or her core, a congregational rabbi is foremost a pastor and friend to his people: one who celebrates with them their joys, who comforts them during their sorrows, who offers counsel when he can and who always listens; one who respects his congregants as individuals striving to create opportunities for Jewish meaning in a world that often leaves little time for such sacred endeavors. To be a congregational rabbi is to know one's people: to support them, to challenge them and to love them.
Over my 16 years in the rabbinate, I have cherished precious relationships with my congregants, for whom I strive to be present everyday. And so I will try to be for you.
If we learn from the story of the spies that, when we look to the future, it is right to be hopeful, we also learn that when dreams come true, it is right to be grateful. And I am so very, very grateful.
Thank you very much.
Back to Membership