---
OR MORE THAN 100 years, Jewish people have been wishing each other
L'shanah Tovah
, a "Happy New Year," for Rosh Hashanah by sending each other greeting cards. Temple Emanu-El continues that tradition today…but with a modern twist.
In early 2009, Temple Emanu-El's Religious School partnered with the Herbert & Eileen Bernard Museum for their first-ever High Holy Days e-Card Contest. Students studied images from the museum's special exhibit
Past Perfect: The Jewish Experience in Early 20th Century Postcards
and were given the opportunity to design their own High Holy Days cards. Students' contest entries were meant to be modern updates of postcards from the exhibition, and the selected winners now have had their cards turned into e-Cards that can be sent by e-mail to reflect the way in which we often send holiday greetings in today's world.
The images below represent the winning designs and the original postcards, courtesy of the Jewish Theological Seminary, that inspired them. Follow the links below to send the card of your choice to friends and family using our students' fantastic artwork.
---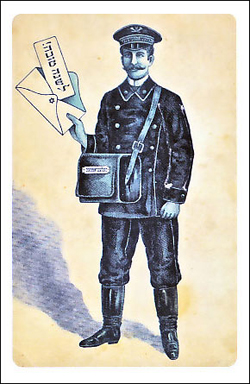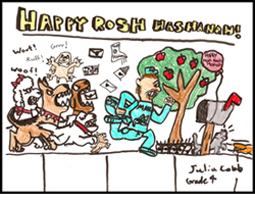 ---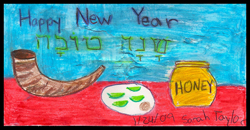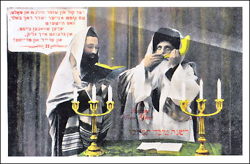 Image left: Sounding the Shofar
Williamsburg Art Co., New York
Printed in Germany, circa 1910

Poem: The sound of the shofar blasts
A new year is on its way
To lift the weak of spirit
And bring you joy, comfort
and good cheer
---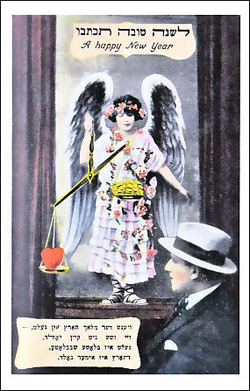 Image right: New Year's Greetings
Williamsburg Art Co., New York
Printed in Saxony, circa 1915

Poem: The angel weighs both
heart and wealth
Do not be a fool
Wealth is lowlier than mud
Heart is always gold


Third Place: Andrew Fischer
Click on Andrew's image
to see a sample of the e-Card.
« Send an e-Card
using Andrew's image.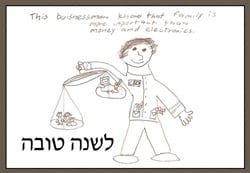 ---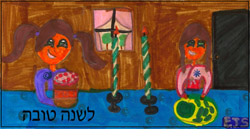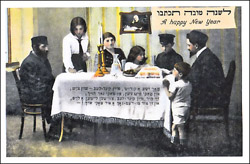 Image Right: Festival Meal
Williamsburg Art Co., New York
Printed in Saxony, circa 1915

Poem: Make the kiddush my child,
Light of my life — it's time
Chant it in a voice that's true
May you, my child,
be a man among men
And also be a Jew
---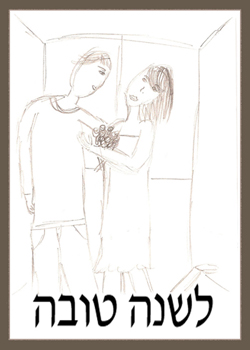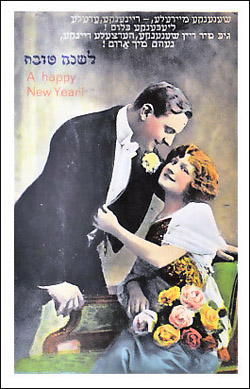 Image Right: Romantic
New Year's Greeting
Williamsburg Art Co., New York
Printed in Germany, circa 1915

Poem: My pretty little girl,
my pure and entle one
My darling flower
Give me your pure, lovely heart
Take me in your arms
Back to Family Holiday Activities