---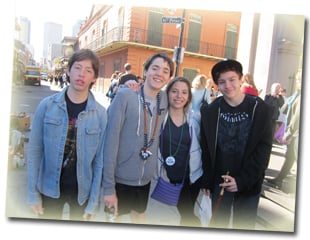 From January 13-16, 2012, Emanu-El eighth graders spent a volunteer weekend in New Orleans. The following was written by one of the program participants.
EIGHTH GRADE TRIP
TO NEW ORLEANS
By Jarrett Deutsch
oing to New Orleans was a great trip in many ways. We went to New Orleans because there is still a great need for help after Hurricane Katrina. They need help because Katrina destroyed many of their homes, especially in poor neighborhoods.
Residents of these neighborhoods do not have access to healthy food because grocery stores will not rebuild in their neighborhoods, and many of them do not have access to transportation. We helped people in need by doing community service such as gardening to make fresh food for the people who couldn't otherwise access it.
We also learned about new cultures, including jazz and gospel church. Jazz is a unique culture because that is their way of expressing themselves. We visited a church service and got to hear the gospel choir. We learned about the history of New Orleans from our tour guides. While we were there, we met new people and new friends and witnessed the differences in community.
I'm so glad I had the privilege to learn with our great tour guides and to go on this trip. I hope we helped the people that needed helping in this historic city and that we left a mark that won't be forgotten.
Back to Eighth Grade Trip to New Orleans