---
Ronald McDonald House of New York provides a temporary "home away from home" for pediatric cancer patients and their families. The House is a supportive and caring environment that encourages and nurtures the development of child-to-child and parent-to-parent support systems.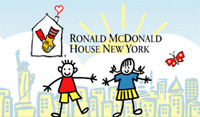 During the months
of December 2009
and January 2010,
our Religious School students raised $963.70 in support of Ronald McDonald House. Our Sunday program as a whole raised $356.44; Monday classes raised $346.31; and Wednesday classes raised $260.95. Individual class leaders were our Wednesday fifth grade ($163.60), Monday fourth graders ($154.29) and Sunday third graders ($85.51).

Within these weeks, we also raised an additional $750.75 to support Haiti earthquake relief.
Thanks to Ronald McDonald House,
families who find themselves far from home because of their child's cancer diagnosis can live in a safe, clean and supportive environment in close proximity to 14 partner hospitals for a nominal fee. Ronald McDonald House provides family rooms, kitchens, a library, computer rooms, a playroom, tutoring, professionally supervised activities and transportation services. In addition, Ronald McDonald House offers extensive programs to help children, siblings and parents find refuge and relief from exhausting, painful and time-consuming cancer treatments.
Learn more »
---
Once a month,
under the sponsorship of the Women's Auxiliary, Emanu-El congregants serve dinner and organize art projects for the families residing at New York City's Ronald McDonald House on the Upper East Side.
Temple members who are interested in participating must contact the Women's Auxiliary. This activity is suitable only for adults over 18 who are in good health. All volunteers will receive a call back from the Women's Auxiliary to confirm their volunteer dates. (Please, no walk-ins!)
If you cannot join us, then please consider making a donation of desserts as well as all types of materials for arts and crafts.
Register with the Women's Auxiliary »
Back to Tzedakah