---
As New York City's largest, nonsectarian, neighborhood-based provider of emergency food, New York Common Pantry provides food to all who come seeking relief from hunger. The pantry was founded in 1981 by a coalition of East Side churches and synagogues, including Congregation Emanu-El.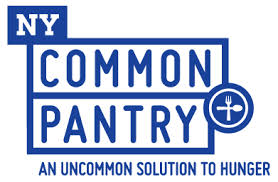 While fighting hunger is,
and always will be, the pantry's major goal,
New York Common Pantry
also offers services to meet clients' needs for shelter, hygiene and health care.

As in past years, the Religious School weekly tzedakah collection began with New York Common Pantry, a food pantry with which Temple Emanu-El has had a long history of involvement.

In 2013, our students raised $2,033.30 for this local organization — a school record!
Pantry efforts are accomplished through the following programs:
Choice Pantry allows its thousands of participants to choose culturally appropriate, nutritionally balanced food packages. This model empowers Pantry members to be active participants in the distribution process by encouraging them to pick the nutritious food they would like to receive.
Help 365 is open 365 days a year to all Pantry members. Help 365 staff assist with acquiring benefits and entitlements, such as Supplemental Nutrition Assistance Program (SNAP) and Social Security Supplemental Income; with accessing other appropriate resources to prevent families from being evicted from their homes; and by making employment referrals. In addition, Help 365 provides ready-to-eat brown bag meals on days when there is no hot dinner.
Project Dignity works with clients weekly to help them obtain housing, jobs, entitlements, substance-abuse treatment or other medical and social services, as well as such basic needs as food, haircuts, mail service and laundry.
Live Healthy! promotes healthy eating and nutrition education to adults, children and their families. Emphasis is placed on the nutritional value of the fruits and vegetables to ensure that participants learn about vitamins and minerals and their impact on healthy living.
Hot Meals provides breakfast Monday through Friday and hot dinner on Mondays, Wednesdays and Fridays. All meals are cooked on premises and feature wholesome ingredients. Beyond providing nutritious food, the program offers participants a chance to sit, eat and socialize in a relaxing, safe, friendly atmosphere that offers a retreat from the stressors of being homeless or living in poverty.
Back to Tzedakah