---
Since its founding in 1901, Jewish National Fund has been a vital part of
Zionist history, achieving its goal of purchasing the land that would become
the State of Israel, helping to develop that land into a thriving nation and protecting Israel's environment.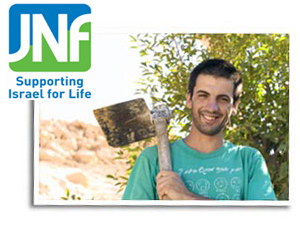 For our final Religious School tzedakah project of the 2007-2008 school year, students were given JNF tzedakah boxes to take home so that families also could contribute to their class donations, if they wished.

Funds collected by all classes from April 27, 2008, through the end of the school year totaled $568.75. Well done!
Over the past century,
the JNF family has planted more than 240 million trees, built more than 250 recycled-water reservoirs, developed more than 250,000 acres of land, created more than 1,000 parks throughout Israel, and educated students around the world about Israel and the environment. Through the support of donors, the JNF family was able to ensure that Israel was the only nation in the world to end the 20th century with more trees than it had at the beginning.
As a global environmental leader focusing on Israel, JNF is committed to the United Nations' Millennium Development Goals of 2015 and its partnerships with Israel's neighbors, which are intended to improve the quality of life for all who live in the Middle East.
Learn more »
Back to Tzedakah