---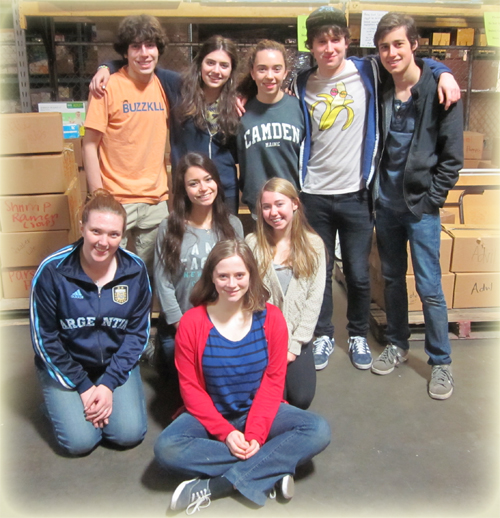 From February 16-20, 2012, Emanu-El high school students spent a volunteer weekend in Birmingham, Ala. The following was written by one of the program participants.
HIGH SCHOOL
VOLUNTEER WEEKEND
By Julia Slaff
HE TEEN COMMUNITY of Emanu-El went on a community-service trip to Birmingham, Ala., over Presidents Day weekend. We were given the opportunity to help rebuild homes that had been damaged by the tornadoes in April of last year. The jobs demanded long hours and hard work, but we managed to have a bit of fun on the side.
We arrived in Birmingham on a Thursday night. On Friday morning we went to work on a home that had been damaged. We were later told that the last group that had been assigned the house turned around and left because they thought it was too damaged. With our team effort, we managed to fix a lot of the house. We ripped up the carpets and painted the walls. After our long day of remodeling, we had the opportunity to go to a Shabbat service at Temple Emanu-El of Birmingham. Southern hospitality was not lacking on that day!
Saturday was another big day of service for us. We went to a home that was close to completion but still needed some help. We did our part by grouting the bathroom, putting in a wooden floor and scraping glue from a hardwood floor. When the day was over, we all felt a real feeling of completion. Every repair brought this family closer to when they could move back into their home. It was a magical feeling. Saturday evening, we celebrated our two days of work with a night of bowling.
Sunday in Birmingham is different than Sunday in Manhattan. The city is quite religious, so nothing was open until noon. We began our day with a nature walk at a state park. In the afternoon, we went to the Birmingham Civil Rights Institute. We got to see, hear and read about what this era was like for the South. It was amazing to be able to experience this era in life as opposed to in books.
Monday was our last day in Birmingham. We spent our last hours organizing donations at the Christian Service Mission, the organization that helped set up our service projects.
This trip was really eye-opening for us as city teenagers. We got to experience an entirely different culture and way of life that we are not accustomed to. I believe that this trip was also beneficial to help us see that natural disasters really cause distress and damage. It was important for us to realize that every effort we make is beneficial to helping a community hurt by a natural disaster. As Bono says, "The world is more malleable than you think, and it's waiting for you to hammer it into shape."
Back to Teen Volunteer Weekend