---
Temple Emanu-El's Religious School offers a variety of programs for teens in
grades 9 through 12, all created with the intent that Judaism should be something experienced and not just something learned.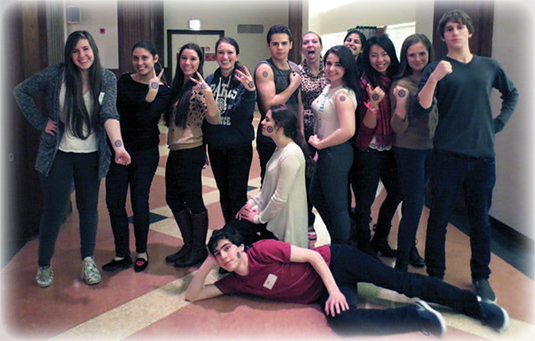 ---
Read about Emanu-El's teen efforts in The Jewish Week »
Read a Q&A with this year's teen leaders »
---
Following are summaries
of each program with links for more information:
THE A-TEEM: RELIGIOUS SCHOOL INTERNSHIP
(9th–12th Grade)
A-TEEM: The Assistant Temple Emanu-El
Madrichim
(Leaders) Program provides an opportunity for leadership and involvement in administrative and academic components of the Religious School. Students will work in the Religious School office, partner with experienced faculty to develop classroom lessons, and engage in study while building and strengthening relationships with classmates, clergy, staff and the greater Temple community. A-TEEM members earn a stipend for their participation in this program. Students may be eligible to earn community-service credit in lieu of the stipend, if approved by the student's school.
CIVIL RIGHTS TRIP
(9th Grade)
Ninth graders from Temple Emanu-El will join ninth graders from Temple Shaaray Tefila and Temple Israel on this meaningful trip to the South to learn about the Civil Rights movement and the effect the Jewish community had on this important chapter of American history.
HIGH SCHOOL ADVOCACY TRIP
(9th–12th Grade)
High School students will travel to Washington, DC, with Rabbi Joshua Davidson to learn about public policy, explore the Jewish values surrounding public-policy issues, and gain the skills of an effective advocate in preparation to meet with a New York senator or congressman to lobby on the issues about which they care. Teens also will have the opportunity to meet high school students from other Reform temples from around the country.
HIGH SCHOOL VOLUNTEER TRIP
(9th–12th Grade)
Our Emanu-El students have traveled to New Orleans, Birmingham, Ala., and London for hands-on community-service trips. This year, we will return to the South! Travel to Atlanta with friends for a weekend of community service, culture and fun. Do hands-on service work helping Georgians living in poverty. Visit Emory University and see what Jewish life on campus is like. Enjoy southern food and all the sites Atlanta has to offer — the Center for Civil and Human Rights, the World of Coca Cola and more. We will leave New York after school on Friday and return on Tuesday evening.
HIGH SCHOOL CONFIRMATION
(9th–12th Grade)
Through our confirmation program, students and their classmates will come together for a year of experiential learning led by our clergy and Lifelong Learning staff. Students will participate in monthly sessions that include challenging intellectual exercises, engaging social activities, a wilderness hike, high-level study and self-reflection. The year culminates with a student-led ceremony before the entire congregation, a rite of passage students will remember throughout their lives.
SENIOR YOUTH GROUP
(9th–12th Grade)
Senior Youth Group activities are a great way to make friends, experience one's Jewish cultural identity and live one's Jewish values. The Senior Youth Group features a variety of social, educational and social action events each month. The more students participate, the more they feel connected to the teen community.
SENIOR YOUTH GROUP BOARD
(10th–12th Grade)
The Senior Youth Group Board is the heart of our high school community. Board members plan monthly events and other special programs for their fellow teens. As board members, students will develop and put into practice their leadership skills. High school students who have participated in leadership activities in previous years (including Tzedek League, A-TEEM, Confirmation, Teen Benefit Committee, Teen Philanthropic Committee and trips) are eligible to serve on the board.
DINNER AND LEARNING
(10th–12th Grade)
Teens are invited to gather once a month, generally Sunday evenings, for dinner, dessert and a chance to discuss topics of interest to them — be it tattoos, the afterlife, relationships or much more! Discussion topics are chosen by the participants.
TEEN BENEFIT COMMITTEE
(9th–12th Grade)
Want an "in" to the biggest party of the year? Then be a part of a project that's making a difference across the globe! Created by Emanu-El teens, the Teen Benefit is completely planned, produced and attended by teens. Over the last five years, the Teen Benefit has raised more than $100,000 for American Jewish World Service. All high school students are eligible to become part of the planning committee. Committee members attend monthly meetings, work on their designated responsibilities (such as choosing a venue and soliciting donations), present ideas to the committee and sell tickets. The Teen Benefit Committee works hard throughout the year, and monthly group dinners and a successful spring event make it all worthwhile. Meetings begin in the fall.
TEEN PHILANTHROPIC COMMITTEE
(8th–12th Grade)
How would you use $10,000 to help New York City? Temple Emanu-El's brand new Teen Philanthropic Committee has been tasked with just that responsibility by Temple Emanu-El's Philanthropic Fund. Students interested in becoming part of the committee will come together monthly to participate in the grant-making process. They will select an issue affecting New Yorkers, create a mission statement and design a grant application to be used by nonprofit organizations seeking funds.
---
REGISTRATION INFORMATION
In order to participate in any of our high school programs, students must submit a completed
registration form
to the Office of Lifelong Learning. Please note: The student's legal guardian must be a member of the congregation. For membership information, please call the Temple Office at (212) 744-1400, ext. 210, or
download an application
.
Find us on Facebook: www.facebook.com/emanuelnycteens
Find us on Twitter: EmanuElNYCTeens
Back to Religious School