---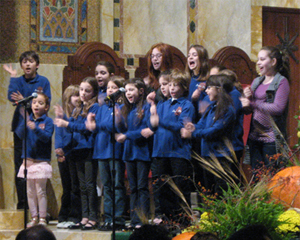 What Students and Parents
Are Saying About the Junior Choir…
"Junior Choir is fun! We go to lots of parties, and on Mitzvah Day, we sing to the ones in need. When I practice at home, I put all my heart into it. It is so much better than watching TV." — Abby M.
"The Junior Choir is amazing! We learn how to sing Hebrew songs and learn about the Jewish holidays through music. It is really fun, and we put on lots of performances." — Cayla P.
"I would like other boys to join in.
I like to sing to myself the songs
we learn in school." — Max M.
"[My daughter's] participation in the Junior Choir has reconnected me to all the wonderful melodies and prayers I remember as a child…. I am so happy that [she] is getting this tremendous experience." — Lisa S.
"Sitting in the Junior Choir practice room is the high point of my week. The songs my children and I learn are spontaneously sung by all of us at home, in the car, walking to school, waiting in lines…" — Gail M.
s part of our Sunday Religious School program, Cantor Lori Corrsin leads our student choir for children who like to sing and dance. This is an extracurricular activity that meets at noon following regular classes. A pizza lunch is served prior to rehearsal.
The Junior Choir was developed to introduce students to the spirited and inspiring Jewish music of our heritage and to help them become connected to the Temple and their faith. Junior Choir members perform at various Temple services and onsite events. Twice a year, they also perform in concert at local nursing homes.
To register your child for the Junior Choir, call (212) 744-1400, ext. 233 or
send a message.
Every Sunday I sing after school.
And I get lost in a world
where you rule.
I have two coaches,
Alexandra and Josh.
And before class I eat pizza
that I nosh.

In the middle of this paradise
Is Cantor Lori, who is nice.
With all the neat girls
and two boys
Are happy faces filled with joy!
— Poem by Abby M.
Back to Religious School