---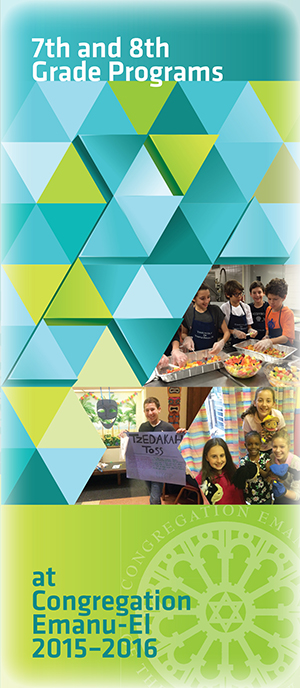 emple Emanu-El is pleased to offer the following programs for students in seventh and eighth grade.
Seventh Grade Mitzvah Corps
In Mitzvah Corps you will become empowered to respond to important societal issues such as poor education, senior-citizen care, diversity, hunger, homelessness and climate change. This year-long program is divided into seven units, each focused on a different issue. Each unit includes a learning, action and reflection session.
Learning and reflection sessions are held during Religious School hours, Sunday or Wednesday (you may choose to attend either day). Action sessions meet only once and may be outside of school hours.
Eighth Grade Lirdof Tzedek
The eighth grade
Lirdof Tzedek
("Pursuit of Justice") program delves deeper into one issue. Students who become
Mitzvah Messengers
* by the end of seventh grade will choose one issue to explore in-depth during their eighth grade year. By choosing one mitzvah for study, volunteering with the same organization throughout the year and studying timeless Jewish wisdom about the issue, you build a stronger relationship and make a more lasting impression!
This program centers on direct community service. In addition, you will learn to organize fundraisers, invite outside friends to volunteer and lobby our local government officials on behalf of the issue you choose. Eighth graders participating in
Lirdof Tzedek
also may choose to participate in Mitzvah Corps.
*In order to become Mitzvah Messengers, students must complete four units of Mitzvah Corps. They also must attend all three sessions of a unit to receive credit for completion. The distinct honor of being a Mitzvah Messenger allows you to help choose the theme for Lirdof Tzedek, to receive the Mitzvah Corps yearbook, to teach in the Religious School about social justice and to be honored at the Mitzvah Corps family dinner in the spring.
Rosh Hodesh
For girls in seventh grade, Rosh Hodesh is a "girls only" group that meets monthly on or near the new moon to munch, talk, do ritual, learn, and feel comfortable, Jewish and good about ourselves. Rosh Hodesh meets one Sunday evening a month.
Ish
Led by Rabbi Benjamin Zeidman, ISH (pronounced
ee-sh
) is a new, cutting-edge program specifically for Jewish eighth grade guys. We are one of just a few sites around the country offering this new program that involves games, movies, TV and looking at what it means to be a Jewish man. Ish meets one Sunday evening a month.
Eighth Grade Trip to New Orleans
Al Ta'amod
— Don't be a bystander…bear witness! Eighth graders from Temple Emanu-El, Temple Israel, Stephen Wise Free Synagogue and Temple Shaaray Tefila will travel together for this exciting and meaningful trip where we will help rebuild the city of New Orleans, hear from Jewish and non-Jewish residents about Hurricane Katrina, and experience the various cultures of New Orleans, including live jazz music and a voodoo tour.
REGISTRATION INFORMATION
Complete the Religious School registration form (available in
Word
and
PDF
formats) and return it to the Department of Lifelong Learning. Participation is available only to students whose families are members of Congregation Emanu-El. The 2013-2014 program fee is $1,075 ($50 discount when registration forms and payments are received by July 31, 2013). Note: There is an additional fee of $850 for the New Orleans trip, which covers costs for airfare, hotel, meals and activities.
Questions? Contact the
Department of Lifelong Learning
.
Back to Religious School