---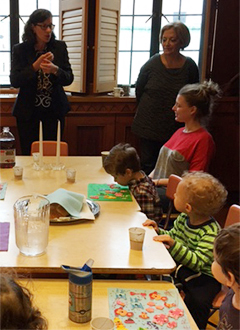 Building on the success
of a previous program, the Twos Group offers distinctive learning opportunities for both parents and children. On Wednesdays, parents will participate in discussions intended to help them gain insight into their parenting choices, to foster independence and healthy separation, to promote understanding of their child's unique temperament and to explore Jewish identity. On Fridays, children will participate in a stimulating structured playgroup, emphasizing social interaction. Led by experienced teachers, the activities will include enhancing music appreciation, arts and crafts, and celebrating Jewish holidays and traditions. Parents will have the opportunity to observe their children and learn from immediate unfolding situations.
---
Complete our online registration »
---
For WINTER/SPRING 2018, Toddlers Group is for children ages 24 months to 30 months.
Wednesdays and Fridays — 9:15 AM to 10:45 AM
January 24, 26, 31; February 2, 7, 9, 14, 16, 28;
March 2, 7, 9, 14, 16; April 11, 13, 18, 20, 25, 27;
May 2, 4, 9, 11, 16, 18, 23, 25
(No group the week of February 21 and March 21 through April 6)
Fee: $4200 for temple members, $4425 for nonmembers
Preregistration is required for all groups. Classes must be paid in full before sessions start.
Fee includes a $100 nonrefundable charge. No refunds will be given after classes start.
To have your name placed on a waiting list for a sold-out class, call (212) 507-9603.
Light snacks will be served. Please let us know if you or your child has any food allergies. Parents also may bring their own snacks.
QUESTIONS?
Contact
Parenting@Emanu-El
.
Please indicate your interest in The Twos Group.
Back to Parenting at Emanu-El