---
Temple Emanu-El's parent/child programs are led by child psychologist
Dr. Juliet Cooper and Rabbi Amy Ehrlich. Please contact us
through Parenting at Emanu-El to discuss participation in these programs.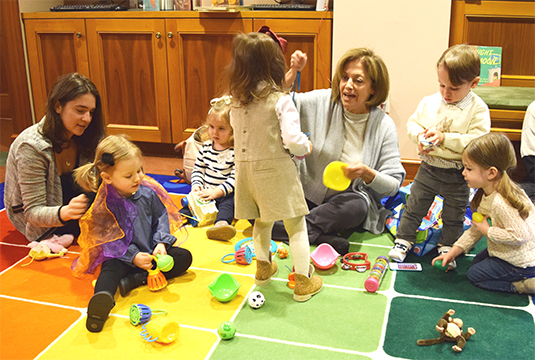 TODDLER GROUP (for children ages 10 months to 20 months)
Parenthood is a monumental milestone, marked by joy and unexpected challenges. Come explore and share helpful parenting skills with other mothers in our community. Topics to be discussed include negotiating family roles, establishing positive and consistent routines, incorporating Jewish ritual into your family life and finding a healthy balance as a parent.
Sessions will meet on Mondays: October 7, 2013, through December 2, 2013,
from 10:30 AM to noon. Fee is $650 for Temple members, $725 for nonmembers.
(No group on October 14.)
---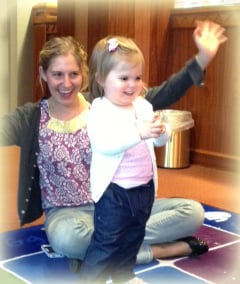 PARENT-CHILD GROUP (for children ages 24 months to 33 months)
Parents with young children are invited to participate in a series of weekly discussions intended to help them gain insight into their parenting choices, to foster independence and healthy separation, to promote understanding of their child's unique temperament and to explore Jewish identity.
Children will participate in a stimulating structured playgroup, emphasizing social interaction. Led by experienced teachers, the activities will include enhancing music appreciation, arts and crafts, and celebrating Jewish holidays and traditions. Parents will have the opportunity to observe their children and learn from immediate unfolding situations. The group will provide a wonderful opportunity to connect with other parents and create lasting friendships.

Sessions meet on Wednesdays: October 2, 2013, through December 4, 2013,
from 9:15 AM to 10:30 AM. Fee is $650 for Temple members, $725 for nonmembers.
(No group on November 27.)
---
PRESCHOOL PARENTS
Dr. Cooper also will lead a group for parents of preschool-age children that will focus on such issues as separation, social development and peer relations.
Sessions will meet on Mondays, starting October 28, at 9:15 AM.
---
PREREGISTRATION IS REQUIRED
for all groups. Send your contact information to
Parenting at Emanu-El
, or call Rabbi Ehrlich's study at (212) 744-1400, ext. 206. Please indicate the group for which you are registering. NOTE: Parents with twins/triplets pay half price for each additional child.
Light snacks will be served. Please let us know if you or your child has any food allergies. Parents also may bring their own snacks.
Back to Early Childhood