---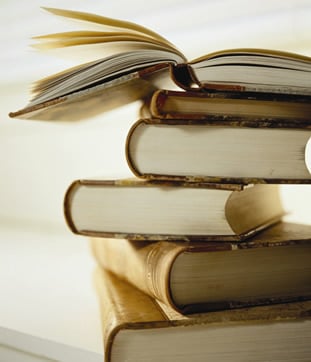 Bring your insights, reactions and reflections
as we discuss works of fiction and nonfiction,
biographies and memoirs.

Temple members and Skirball students are invited to join this friendly and welcoming group of avid readers. Commit to the season, or drop in when a book is of particular interest. Sessions meet Wednesdays from 6:30 PM to 8 PM. Discussions will be facilitated by Temple Librarian Elizabeth Stabler. For more information about joining, please call (212) 744-1400, ext. 360, or send a message.



---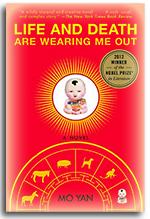 September 11, 2013
Life and Death Are Wearing Me Out
by Mo Yan (552 pp)
TODAY'S MOST REVERED, feared and controversial Chinese novelist offers a tour de force in which the real, the absurd, the comical and the tragic are blended into a fascinating read. The hero — or antihero — of Mo Yan's new novel is Ximen Nao, a landowner known for his benevolence to his peasants. His story is a deliriously unique journey and absolutely riveting tale that reveals the author's love of a homeland beset by ills inevitable, political and traditional.
(Winner of the 2012 Nobel Prize in Literature)
---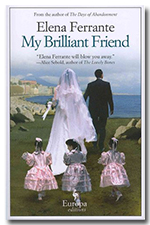 October 9, 2013
My Brilliant Friend
by Elena Ferrante (336 pp)
A MODERN MASTERPIECE from one of Italy's most acclaimed authors,
My Brilliant Friend
is a rich, intense, and generous-hearted story about two friends, Elena and Lila. Ferrante's inimitable style lends itself perfectly to a meticulous portrait of these two women that is also the story of a nation and a touching meditation on the nature of friendship. The story begins in the 1950s, in a poor but vibrant neighborhood on the outskirts of Naples. Growing up on these tough streets the two girls learn to rely on each other ahead of anyone or anything else. As they grow, as their paths repeatedly diverge and converge, Elena and Lila remain best friends whose respective destinies are reflected and refracted in the other. They are likewise the embodiments of a nation undergoing momentous change. Through the lives of these two women, Ferrante tells the story of a neighborhood, a city, and a country as it is transformed in ways that, in turn, also transform the relationship between her protagonists.
---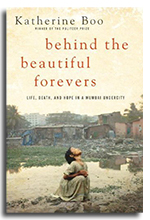 November 13, 2013
Behind the Beautiful Forevers:
Life, Death and Hope in a Mumbai Undercity
by Katherine Boo (256 pp)
ANNAWADI IS A makeshift settlement in the shadow of luxury hotels near the Mumbai airport, and as India starts to prosper, Annawadians are electric with hope. With intelligence, humor and deep insight into what connects human beings to one another in an era of tumultuous change,
Behind the Beautiful Forevers
carries the reader headlong into one of the 21st century's hidden worlds and into the lives of people impossible to forget.
(Winner of the National Book Award for Nonficton)
---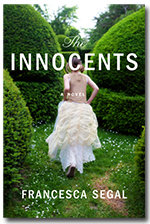 December 11, 2013
The Innocents
by Francesca Segal (176 pp)
SET IN THE MODERN-DAY upper-crust Jewish community of North West London, a community still under the shadow of the Holocaust and where the bonds of family and tradition run deep,
The Innocents
is inspired by the stifling fin-de-siècle New York society immortalized in Edith Wharton's
The Age of Innocence
. Slyly humorous and deeply satisfying,
The Innocents
illuminates the conflict between responsibility and passion, security and exhilaration, tradition and independence.
---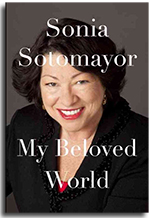 January 15, 2014
My Beloved World
by Sonia Sotomayor (336 pp)
THE FIRST HISPANIC and third woman appointed to the United States Supreme Court, Sonia Sotomayor has become an instant American icon. Now, with a candor and intimacy never undertaken by a sitting Justice, she recounts her life from a Bronx housing project to the federal bench, a journey that offers an inspiring testament to her own extraordinary determination and the power of believing in oneself.
---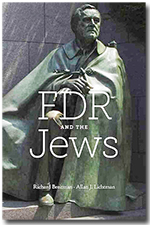 February 12, 2014
FDR and the Jews
by Richard Breitman and Allan J. Lichtman (464 pp)
NEARLY 75 YEARS after World War II, a contentious debate lingers over whether Franklin Delano Roosevelt turned his back on the Jews of Hitler's Europe. Defenders claim that FDR saved millions of potential victims by defeating Nazi Germany. Others revile him as morally indifferent and indict him for keeping America's gates closed to Jewish refugees and failing to bomb Auschwitz's gas chambers. In an extensive examination of this impassioned debate, Richard Breitman and Allan J. Lichtman find that the president was neither savior nor bystander. In
FDR and the Jews
, they draw upon many new primary sources to offer an intriguing portrait of a consummate politician — compassionate but also pragmatic — struggling with opposing priorities under perilous conditions. Although his actions may seem inadequate in retrospect, the authors bring to light a concerned leader whose efforts on behalf of Jews were far greater than those of any other world figure. His moral position was tempered by the political realities of depression and war, a conflict all too familiar to American politicians in the 21st century.
(This year's Emanu-El Reads selection)
---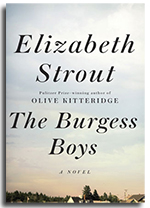 March 19, 2014
The Burgess Boys: A Novel
by Elizabeth Strout (336 pp)
HAUNTED BY THE freak accident that killed their father when they were children, Jim and Bob Burgess escaped from their Maine hometown of Shirley Falls for New York City as soon as they possibly could. With a rare combination of brilliant storytelling, exquisite prose and remarkable insight into character, Elizabeth Strout has brought to life two deeply human protagonists whose struggles and triumphs will resonate with readers.
---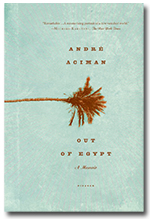 April 2, 2014
Out of Egypt: A Memoir
by André Aciman (339 pp)
WHEN ACIMAN, born and raised in Alexandria, Egypt, was asked his nationality as a boy, he automatically replied, "French." His confusion was understandable; his family were Sephardic Jews who had wandered from Italy to Turkey, then settled in Egypt. Eventually they fled to Paris, leaving behind much of their wealth but little of their culture, which Aciman — his mother's darling, his teachers' despair, his father's worry, a child spy in a house of eccentric, cultivated adults — here recalls with a magical sensibility streaked with antic humor. A marvelous memento of a place, time and people that have all disappeared.
(Publishers Weekly)
---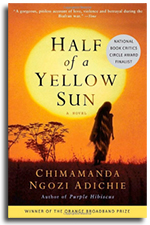 May 14, 2014
Half of a Yellow Sun
by Chimamanda Ngozi Adichie (543 pp)
BASED LOOSELY ON political events in 1960s Nigeria, this novel focuses on two wealthy Igbo sisters, Olanna and Kainene, who drift apart as the newly independent nation struggles to remain unified. Olanna falls for an imperious academic whose political convictions mask his personal weaknesses; meanwhile, Kainene becomes involved with a shy, studious British expat. After a series of massacres targeting the Igbo people, the carefully genteel world of the two couples disintegrates. Adichie indicts the outside world for its indifference and probes the arrogance and ignorance that perpetuated the conflict. Yet, this is no polemic. The characters and landscape are vividly painted, and details often are used to heartbreaking effect: Soldiers, waiting to be armed, clutch sticks carved into the shape of rifles; an Igbo mother, in flight from a massacre, carries her daughter's severed head, the hair lovingly braided.
(The New Yorker)
---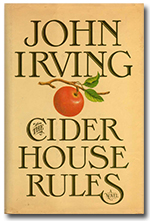 June 11, 2014
The Cider House Rules
by John Irving (592 pp)
FIRST PUBLISHED IN 1985,
The Cider House Rules
is John Irving's sixth novel. Set in rural Maine in the first half of the 20th century, it tells the story of Dr. Wilbur Larch — saint and obstetrician, founder and director of the orphanage in the town of St. Cloud's, ether addict and abortionist. It is also the story of Dr. Larch's favorite orphan, Homer Wells, who is never adopted.
Back to Library