---
An electronic version of the library's catalog is available for use by Temple members from home or a mobile device with web access. Browse through the library's holdings to find books, music and DVDs. The library's online public access catalog (OPAC) feautures a list of new acquisitions.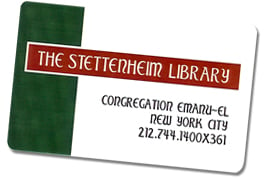 In order to borrow library materials, Temple members first must obtain a library card. Application forms are available at the library. Once you obtain a card, then a login name and password can be assigned for online access.
For those who already have a library card, there are three ways to set up your online account:
Call (212) 744-1400, ext. 360 and speak with Temple Librarian Elizabeth Stabler.
Come into the library to set up your login name and password.
Send a message to our Temple Librarian, and a temporary login and password will be returned to you. Both the login and password can be changed for your convenience.
Happy browsing!
Back to What the Library Offers