---
Temple Emanu-El's weekly seminar on Talmud examines
the text in English translation, with informal yet spirited discussion.
No background in Talmud or Hebrew is required.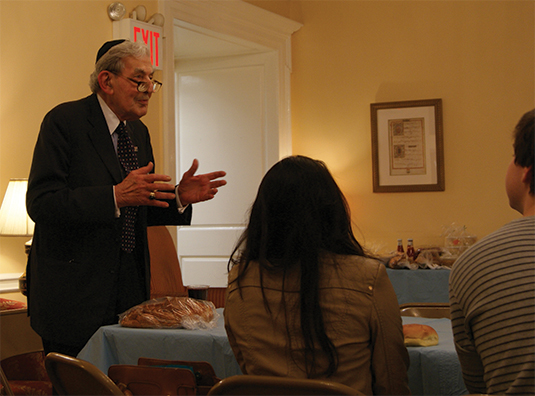 Rabbi Philip Hiat
, of Marymount Manhattan College Campus Ministry and scholar in residence at Central Synagogue, has been offering this program for more than 20 years. This year, the seminar continues study of tractate
Mo-eid Katan
, which examines behavior on the intermediate days of our festivals, the sanctity of human life and all kinds of questions of human behavior — and leaves room for much spirited discussion. This is the seventh tractate taught by Rabbi Hiat at Emanu-El.
There is no charge for this class. All are welcome to join at any time during the year — both newcomers to Judaic studies and those who have long been studying.
Classes meet Wednesdays, starting September 2, 2015, and continuing through June 29, 2016, at 6:15 PM to 7:15 PM.
Participants should enter at the Marvin and Elisabeth Cassell Community House (One East 65th Street). Come when you can and when you wish.
For more information, contact the
Temple Office
.
Back to Temple Emanu-El Skirball Center