---
The Skirball Center for Adult Jewish Learning at Temple Emanu-El was
launched in 2001 to provide a new kind of learning experience for Jewish adults
in the New York City area. Skirball offers opportunities for in-depth study of the great Jewish texts and ideas in a warm and open environment.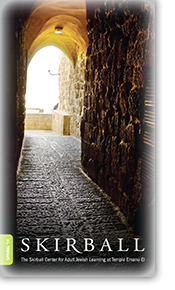 The Skirball Center
strives to make the full spectrum of Jewish knowledge accessible to students who want to: understand the complexity, diversity and meaning of Judaism today; re-frame long-held conceptions; connect to a heritage that is both ancient and continually relevant; and discover themselves in Judaism and the Judaism in themselves.
Spring Semester courses begin April 23, 2014.
Early-bird registration runs through April 11, 2014.
JOIN US FOR:
• Three- and Six-Week Courses
• Special Lectures
• Sunday Seminars
• Day and Evening Classes
OFFERINGS INCLUDE:
Registration may be completed
online
or by calling
(212) 507-9580
. Temple Emanu-El congregants receive
15 percent
off full-semester courses.
---
Can't make it to Skirball?
Then enjoy the learning experience another way, with Skirball
lectures and podcasts
.
Back to Lifelong Learning