---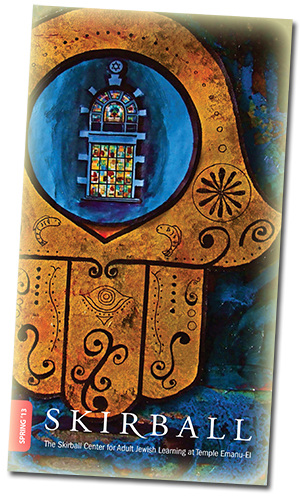 he
Skirball Center for Adult Jewish Learning at Temple Emanu-El
was launched in 2001 to provide a new kind of learning experience for Jewish adults in the New York City area. Skirball offers opportunities for in-depth study of the great Jewish texts and ideas in a warm and open environment.
---
Faith?
By Rabbi Alfredo F. Borodowski, Ph.D.
Like many of you I am proud of my doubts and skepticism. It is from the depth of them that much of my learning, search and quest for self-making emerge. I believe that is something most Jews and the Jewish people share. However, sometimes I feel that many Jews wear their rejection of faith, a word uncommonly used among us, as a badge of honor. I feel concerned about this. Faith and belief in their many shapes nourish life. And why should skepticism prohibit us from engaging with or about God? Don't we all end up missing when we write ourselves out of the conversation?
It is with this concern that I went to Gary Rosenblatt, editor and publisher of
The Jewish Week
and proposed to begin a column titled "The Eternal Conversation." My goal for this monthly column is to interview different individuals about their beliefs; to open the gates of dialogue about God, faith and meaning. There is no agenda more than to shake away the embarrassment of believing and inspiring a deep conversation.
You can read the first one
here
.
I would also like to invite you to join me at
Finding God: A Workshop
.
For more information,
click here
.
---
Spring Semester courses begin in April.
---
Offerings include:
• Finding God: A Workshop with Rabbi Alfredo F. Borodowski

• Romance in the Bible with Rabbi Carol Levithan

• The Book of the People: How the Bible Came to Be with Dr. Mark Weisstuch

• Nachmanides: On the Book of Genesis with Martin Kaufman

• Chanting of the Torah: High Holy Days Trop with Cantor Lori Corrsin

• Myth in Religion, Science, and History: Uses and Misuses with Dr. Neil Gillman
---
Registration may be completed
online
or by calling (212) 507-9580.
Temple Emanu-El congregants receive 15 percent off full-semester courses.
Can't make it to Skirball?
Then enjoy the learning experience another way, with Skirball
podcasts
.
Back to Lifelong Learning