---
Founded in 1922, the Women's Auxiliary is both a
social and civic organization open to all women of the congregation.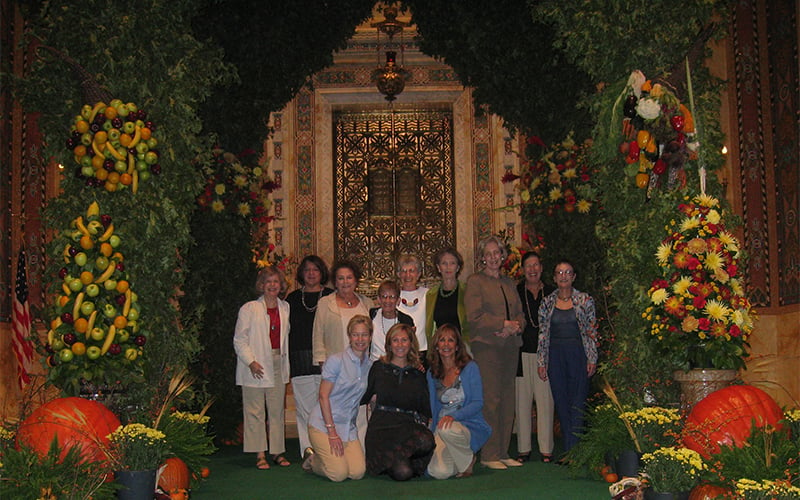 ---
---
PLEASE WON'T YOU JOIN
our Women's Auxiliary and become a part of this vibrant organization? By joining, you are ensuring the legacy of Reform Jewish Women of Congregation Emanu-El. We look forward to welcoming you!

Complete our membership application now »
Your membership dues support our many programs, charities and projects. Membership dues for the 2015-2016 program year are $100 per person.
Help us to reach out to more people
and to expand our wonderful programs.
Send us a message,
or call
(212) 744-1400, ext. 235.
Our Program Committee
plans numerous lectures and outings throughout the year, in addition to sponsoring a variety of activities that benefit the greater New York City community.
In addition to the collection of annual dues, the Women's Auxiliary seeks contributions to its
Tribute Fund
, which also are used to support the various Women's Auxiliary initiatives.
BOOK GROUP
A series with our Temple rabbis discussing some of their favorite books
(Chairmen: Carol Hess for
Eve Haberman*, Rona Weinstein)
EMANU-EL CENTER
A diversified activity program
for senior citizens
EMANU-EL EATS
Our congregational community cookbook
(Liaison: Lisa Hofer)
ENGLISH IN ACTION
A conversation program for foreign-born adults
(Chairmen: Jocelyn F. Chait, Rhona Lipton)
PROJECT BACKPACK
A program providing backpacks
filled with school supplies to underprivileged
kindergarten children on their first day of school
(Chairman: Carol Hess for Eve Haberman*)
RONALD McDONALD HOUSE
A monthly program with volunteers preparing and serving dinner to young
cancer patients and their families
(Chairmen: Bunny Barb, Marjorie Dreyfus, Phyllis Hahn)
VETERANS EVENT
A program benefitting veterans
(Chairmen: Alexandra Bloch Jeydel, Ann Shapiro)
TIKKUN OLAM
Supporting Tikkun Olam volunteer activities through our membership
(Liaisons: Carol Hess, Marlene Yokel)
EMANU-EL HELPING HANDS
A program created by our Emanu-El Cares group to help fellow congregants
through difficult moments
(Liaisons: Carol Hess, Marlene Yokel)
RELIGIOUS SCHOOL
Fostering joint activities with Temple Emanu-El's Religious School
(Liaison: Michaela Roth)
WOMEN'S SEDER
A special journey of celebration and remembrance led by women for women
(Liaison: Jennifer Leyton)
* Of blessed memory
Back to Community