---
The Ushers Committee of Temple Emanu-El plays an important role
at High Holy Days and at Sabbath worship throughout the year.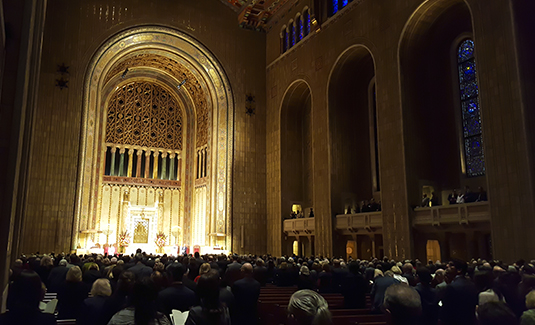 The role of Emanu-El's ushers
is to greet congregants and guests, answer their questions and maintain the solemnity of the service. Ushers accomplish this by welcoming worshipers, helping them find their place in the prayer book, and by directing those unfamiliar with the temple building to seats, rest rooms, exits and other necessary locations. Ushers are expected to dress in a dignified and unobtrusive manner and to maintain decorum in our sanctuaries with the help of temple employees. Ushers are provided with a manual containing basic information about their duties.
Being an usher at Temple Emanu-El is an important position. We welcome the interest of members who would like to join this longstanding group of dedicated volunteers who enhance the worship experience for members and visitors alike.
Volunteer with the Ushers Committee »
Back to Men's Club