---
Fore more than 25 years, Congregation Emanu-El has been preparing meals
for the homeless. The time commitment is minimal — just two hours from 10 AM
to noon on Sundays. We particularly need volunteers on holiday weekends
and during the summer.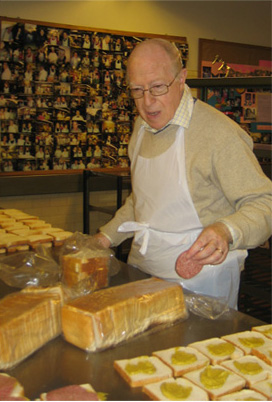 In addition to preparing meals, the Sunday Lunch Program collects paperback books and travel-size toiletries throughout the year. Items can be dropped off at the Temple; bags should be marked "Sunday Lunch Program — Donation."
---
Calling all Summer Angels...
The Sunday Lunch Program is in need of volunteers who can be called on short notice to help out in the kitchen during the months of July and August. Volunteers must be Temple members.
Call (212) 744-1400, ext. 215 to have your name added to the list.
---
And, in an effort organized by our Tikkun Olam Committee, we will be assisting
New York Common Pantry
through their Sunday Night Emergency Window. On each Sunday, we will prepare an additional 35 to 40 meal bags. Temple members with cars are needed to pick up these meals at Emanu-El between 4 PM and 5:30 PM and deliver them to YCP (8 East 109th Street, between Madison and Fifth avenues); the entire process takes 30 to 40 minutes. Volunteers are asked to contact the
Tikkun Olam Committee
. Please include "Sunday Night Delivery" as your message subject.
QUESTIONS?
Contact the
Sunday Lunch Program
.
Back to Philanthropic Fund