---
Your Emanu-El Eats cookbook committee gratefully acknowledges the interest and enthusiasm shown by the congregation for this project.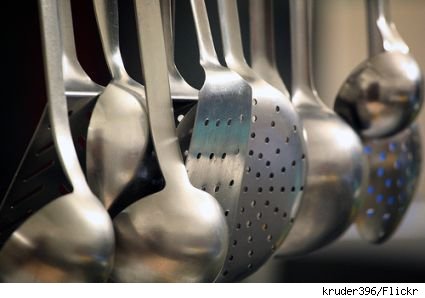 What's in a name?
Work is progressing on our forthcoming congregational cookbook. While we have been using the working title
Emanu-El Eats
, it is time to select a final title. So, we would like to hear from you as to your thoughts for a proper name.
The winner, as chosen by the Emanu-El Eats Committee and our Temple administrators, will receive a complimentary copy of Temple Emanu-El's first congregational cookbook. (In the event of duplicate submissions, the one with the earlier receipt date and time will be eligible for consideration.)
Snail mail or email your suggestions to our Temple librarian (and Emanu-El Eats Committee member), Liza Stabler: One East 65th Street, New York, NY 10065 or
establer@emanuelnyc.org
.
---
NOTE:
Recipe testers and proofreaders still are needed. All levels of cooking skill are requested. We want to ensure that each of these recipes will work for everyone who tries them. So, we must test each and every one. If you would like to volunteer, then please send an email to Liza at
establer@emanuelnyc.org
.
---
In the meantime,
Purim arrives this month. For those of you who observe the custom of
mishloach manot
— giving Purim gift baskets — this month's Emanu-El Eats preview recipe is for a delightful treat that is a nice addition to any basket. The following recipe comes to us from congregant
Peggy Zorn Cohen
.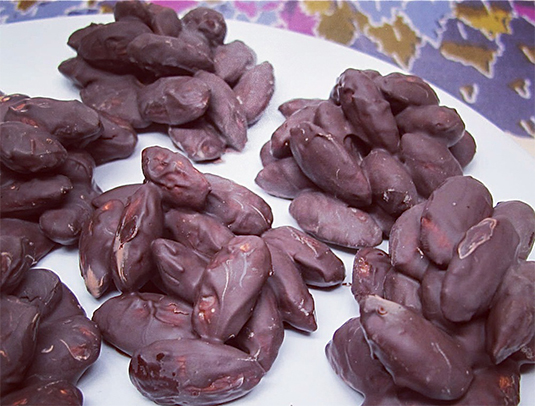 CHOCOLATE-COVERED ALMOND CLUSTERS
(Makes about 36 to 40)
• 8 ounces high-quality milk or semisweet chocolate chips, divided
• 1½ cups whole, roasted, skinless almonds (see note)
1. Line a couple of cookie sheets with waxed paper.
2. In a large microwave-safe bowl, melt half the chocolate chips on high for about 30 seconds.
Stir and repeat until chocolate is just melted, about 1½ minutes.
3. Stir in remaining chips until melted. Cool 3 minutes.
4. Stir in almonds, making sure they are well coated.
5. Drop teaspoonfuls of the mixture onto prepared cookie sheets;
refrigerate until set, about 30 minutes.
NOTE:
If you cannot find dry-roasted almonds in your grocery, then make your own by roasting whole almonds in a 425°F oven until nicely roasted and fragrant, about 10 minutes. Cool before using.
---