---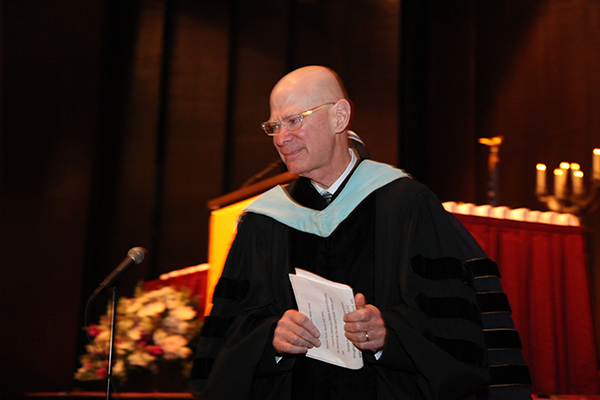 For 40 years, Rabbi David Posner, Ed.D., served
as a beloved spiritual leader of Congregation Emanu-El. His rabbinate was inspired by the biblical instruction that all humankind is created in God's image. This ethical imperative has shaped his devoted commitment and dedicated vision, which have guided the growth of Emanu-El into a vibrant center for worship, lifelong learning and social responsibility to the larger community. He has nurtured relationships across all faiths, including close friendships with New York City's archbishops and cardinals. He has ensured that individuals of diverse ethnic, religious and economic backgrounds have received vital assistance at times of need or crisis. His exemplary acts of conscience, informed by a profound understanding of Judaism's teachings, have modeled the essential role of rabbi as teacher and leader for the Reform Movement and the larger world.
Born in 1947, Rabbi Posner first focused on the rabbinate during his early years growing up in Brooklyn. He was inspired by his childhood rabbi, Rabbi Max Schenk,
z"l
, who introduced him to Rabbi Julius Mark,
z"l
, of Congregation Emanu-El. Mentored by these illustrious Reform rabbis, he was encouraged to attend Hebrew Union College – Jewish Institute of Religion (HUC-JIR) in Cincinnati for rabbinical studies. From 1965 to 1973, supported by the Congregation Emanu-El Scholarship, Rabbi Posner completed the combined program of rabbinical studies at HUC-JIR and undergraduate studies at the University of Cincinnati (UC). In 1969 he received his bachelor's in political science from UC, Phi Beta Kappa and magna cum laude. At HUC-JIR he specialized in the study of Semitic languages, including Aramaic, Arabic, Syriac, Ugaritic and Hebrew, and he received the Ralph Lazarus Prize for ranking first in his class. Upon ordination in 1973, he was asked to join Emanu-El by Rabbi Nathan Perilman,
z"l
. On the 25th anniversary of his ordination, Rabbi Posner received an honorary Doctor of Divinity from HUC-JIR.
An accomplished pianist, Rabbi Posner earned his doctorate in piano pedagogy from Columbia University in 1988. His doctoral research centered on the modern Jewish art music composed in St. Petersburg, the cultural heart of Tsarist Russia, during the first decade of the 20th century. He explored the piano music of a group of young composers who forged a Jewish national style, drawn from ethnographic studies of Jewish communities throughout the Russian Pale of Settlement. Their music melded Chasidic melodies, Yiddish folksongs and Jewish synagogue chants with the avant-garde styles of Russian composers of that era, including Rimsky-Korsakov, Glazunov and Scriabin. Rabbi Posner's thesis was titled "Reviving a Lost Art — Piano Music of Russian-Jewish Origin." A member of "The Bohemians," the oldest international music society, Rabbi Posner has played for audiences widely and is a board member of the Stecher and Horowitz Foundation.
Early in his rabbinical career, Rabbi Posner served as a founding member of the board of the Neighborhood Coalition for Shelter, for which he was honored in recent years. And today, his religious, intellectual, humanitarian and pastoral gifts continue to have an indelible effect on the lives of the beloved families of Temple Emanu-El and on colleagues across the globe. He continues to teach courses in Arabic, Hebrew grammar and syntax, comparative Semitics, Hebrew Bible, Mishnaic Hebrew and Biblical Aramaic. And, as an esteemed member of HUC-JIR's board of governors, Rabbi Posner has taken special joy in supporting the studies of the emerging generations of the Reform Movement's rabbis, cantors, educators, scholars and nonprofit professionals. He also remains a passionate advocate for the State of Israel and world Jewry, as well as the future of Reform rabbinical leadership worldwide. In 2008, the World Union for Progressive Judaism presented Rabbi Posner with its International Humanitarian Award in recognition of his role as an inspiring example of international Jewish leadership, service and dedication to Israel and the Jewish People.
— — —
October 2018
With profound sorrow Congregation Emanu-El of the City of New York mourns the death of our beloved Senior Rabbi Emeritus, Dr. David M. Posner, ז"ל, who served the temple with extraordinary love and matchless devotion over four decades. His long and distinguished rabbinate touched the lives of thousands as he shepherded his flock with unbounding care and sweet tenderness. His compassion and dignity, his brilliant intellect, and his great musical talent comforted, inspired and delighted us. Unwavering in his commitment to Reform Judaism, and a noted leader within the Jewish community around the world, he built warm friendships and lasting partnerships with clergy of all faiths. The gentle qualities of his life and spirit will forever remain a blessing to all who knew and loved him.
Back to Clergy