---
It's too late to schedule an alert for that event.


Women's Auxiliary Book Group

"The Lost: A Search for Six of Six Million" by Daniel Mendelsohn

One East 65th Street
Open to all Temple members
This event has passed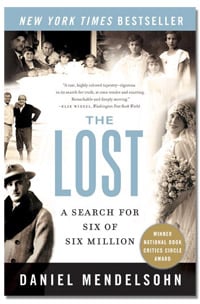 he Lost: A Search for Six of Six Million
by Daniel Mendelsohn (published by HarperCollins) begins as the story of a boy who grew up in a family haunted by the disappearance of six relatives during the Holocaust — an unmentionable subject that gripped his imagination from earliest childhood. Decades later, spurred by the discovery of a cache of desperate letters written to his grandfather in 1939 and tantalized by fragmentary tales of a terrible betrayal, Mendelsohn sets out to find the remaining eyewitnesses to his relatives' fates. That quest eventually takes him to a dozen countries on four continents and forces him to confront the wrenching discrepancies between the histories we live and the stories we tell. And, it leads him, finally, back to the small Ukrainian town where his family's story began and where the solution to a decades-old mystery awaits him.

DANIEL MENDELSOHN
is a frequent contributor to the
New York Review of Books
,
The New York Times Magazine
and
The New York Times Book Review
, as well as a contributing editor at
Travel + Leisure
.
His first book,
The Elusive Embrace
, was named a
New York Times
Notable Book of the Year and a
Los Angeles Times
Best Book of the Year. (Photo by Matt Mendelsohn)
---

Open to all members of the Temple, our discussion will be held in the sixth-floor lounge of the Marvin and Elisabeth Cassell Community House.
Rabbi Amy Ehrlich
will lead our discussion. Enter at One East 65th Street. Feel free to bring your lunch. Coffee and cookies will be served. RSVP to (212) 744-1400, ext. 235, or
send a message
.
Back to Calendar