---
Goldscheider Ceramics: A World Brand From Vienna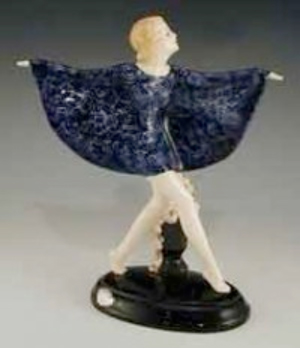 rom its founding in Vienna in 1885 until 1938, the Goldscheider Manufactory was the leading international ceramics producer in Europe with subsidiaries in Paris, Leipzig and Florence. Its high-quality decorative objects were sought by collectors around the world. The pieces encompassed a large variety of styles; more than 10,000 models were in production by the time the company was forcibly Aryanized by the Nazis.
This exhibit features Goldscheider pieces from the private collection of Kathryn Hausman, president of the Art Deco Society, New York. Her collection focuses on the beauty of the 1920s Art Deco Woman. Pieces are displayed with documents, artwork, photos and books from the
Leo Baeck Institute
collections, items that illuminate the political and social transformations taking place throughout Central Europe. Many of these developments enabled Jewish business owners like the Goldscheiders to thrive, before being reviled by the Nazis. The saga of the Goldscheider Manufactory reflects the history of an age.
RSVP by Friday, March 13 to the Women's Auxiliary.
On the day of the event, attendees should meet at the Leo Baeck Institute, Mezzanine Level.
Back to Calendar