---
From Kugel to Kellogg's: The Creation of an American Jewish Appetite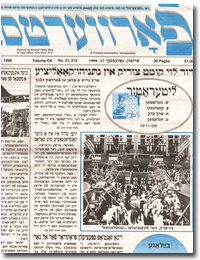 n the 1930s, advertising in the Yiddish press served as a force for Americanization and helped introduce to first- and second-generation American Jews a mass consumer culture that was flourishing across the country. Seeking to create a loyal base of consumers who purchased their products, advertisers exploited the unique concerns of urban Jewish women, many of whom controlled their household economy. A study of the visual imagery depicted in the food advertisements published in the
Forverts
reveals a strategy aimed at persuading housewives that by purchasing name-brand products, they could transform themselves into prototypical modern American Jewish women. The promise of these advertisements—to transform the struggling Jewish housewife into a woman who happily embodied the ideals of modernity, the traditions of Judaism and the beauty of America—offered resolution to a dilemma with which many second-generation Jews grappled: On the one hand, remaining Jewish meant preserving old ways, be they religious, cultural or even political; on the other, becoming modern and American meant adopting new ways. It appears that Jewish women, in particular, were expected to embody the old as well as the new.
The advertisements addressed the anxiety
Forverts
-reading housewives, who were their target audience, must have experienced: Could they embrace the unknown—new products they had never before encountered or owned—and could they do so while preserving Jewish culture and religious practice? Could they preserve Jewish culture and religious practice, and at the same time be accepted as Americans? And, amidst the generational tensions that must have plagued families negotiating the competing needs and demands of first- and second-generation Americans, as well as the tensions between men and women both within and across generations, what could housewives do to achieve peace at home?

RABBI SHIRLEY IDELSON serves as dean of the New York campus of HUC-JIR. Prior to joining the College-Institute administration, Rabbi Idelson served as associate chaplain at Carleton College in Northfield, Minn., and associate for Jewish Life at Macalester College in St. Paul; she also directed arts and religion in the Twin Cities and was a producer and newscaster for Minnesota Public Radio. Before her move to Minnesota in 1998, Rabbi Idelson served as director of Religious Activities and Chaplaincy Services at Vassar College in Poughkeepsie, N.Y. She is currently a candidate in the doctorate history program at the Graduate Center of the City University of New York, where she is a chancellor's fellow.
Women's Auxiliary members and their guests are invited to this event. Refreshments will be served. RSVP to the
Women's Auxiliary
by Thursday, March 12.
Back to Calendar