---
It's too late to schedule an alert for that event.


Women's Auxiliary Book Group

"Broken Tablets: Restoring the Ten Commandments and Ourselves"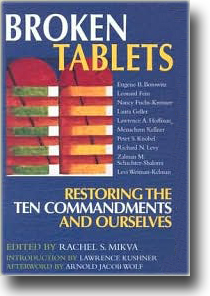 abbinic Intern Ariana Silverman will lead our discussion of
Broken Tablets: Restoring the Ten Commandments and Ourselves
, a compilation of essays edited by Rabbi Rachel Mikva. Even people who claim not to be "religious" generally will maintain that they do observe the Ten Commandments. Why is it that these 10 statements, thousands of years old, continue to have such a special hold on us?
In
Broken Tablets,
12 outstanding spiritual leaders from across the spectrum of Jewish thought bring us to the life and soul of the Ten Commandments' unusual power. In voices that are personal and diverse, they help us take a closer look at the 10 utterances that not only touch every aspect of our lives but also present each of us with a profound challenge.
Contributors include: Eugene B. Borowitz • Leonard Fein • Nancy Fuchs-Kreimer • Laura Geller • Lawrence A. Hoffman • Menachem Kellner • Peter S. Knobel • Richard N. Levy • Zalman M. Schachter-Shalomi • Levi Weiman-Kelman
A limited number of copies can be purchased for 50 percent off through the
Jewish Lights Publishing
Web site.
RACHEL S. MIKVA
is committed to sharing with others the rewards of spiritual study and the power of a relationship with God. She is rabbi of Community Synagogue in Rye, N.Y., and was ordained at Hebrew Union College–Jewish Institute of Religion. While she serves on the Reform Movement's Commission for Religious Living as well as on the Responsa Committee and on numerous other community and national not-for-profit boards, she dedicates most of her time to teaching, which she considers her most important work.
Open to all members of the Temple, our discussion will be held in the sixth-floor lounge of the Marvin and Elisabeth Cassell Community House (One East 65th Street). Feel free to bring your lunch. Coffee and cookies will be served. RSVP to (212) 744-1400, ext. 235 or
send a message
.
RESOURCES:
Back to Calendar