---
Fifth Grade Trip to Eldridge Street Synagogue


Depart from 10 East 66th Street
Participation is FREE, permission slips required
This event has passed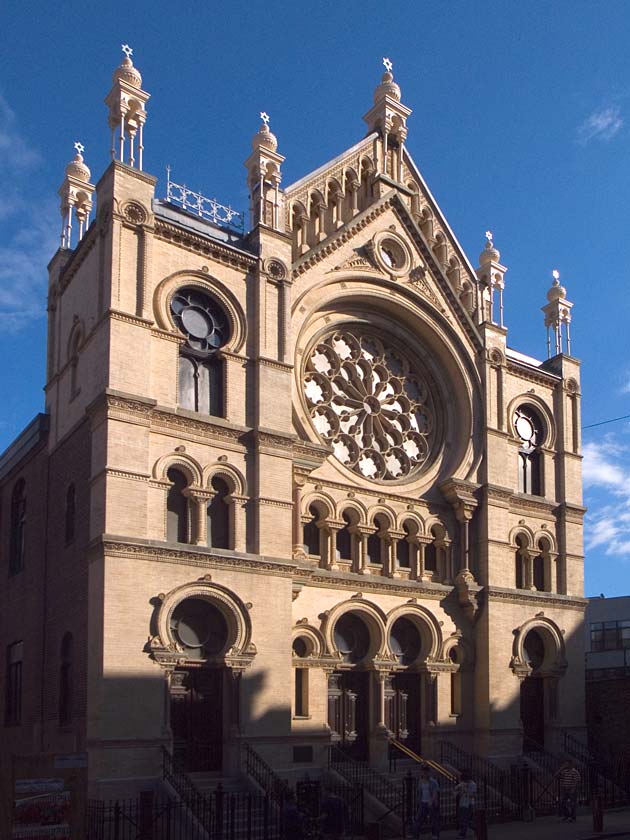 Photo by Brian Rose
Fifth Grade Religious School families
are invited to join our Lifelong Learning staff for a unique experience about Jewish immigration to America. We will visit
Eldridge Street Synagogue
, a breath-taking National Historic Landmark located on New York City's Lower East Side. The synagogue opened its doors at 12 Eldridge Street on September 4, 1887, just in time for the Jewish High Holidays. Hundreds of newly arrived immigrants from Russia and Poland gathered here to pray, socialize and build a community. It was the first time in America that Jews of Eastern Europe had built a synagogue from the ground up.
For 50 years, the synagogue flourished. Men and women came in their finery, and mounted policemen patrolled the crowds. The congregation hired world-renowned cantors and in 1918 hired Rabbi Aharon Yudelovitch, the first in a series of famed Talmudists and speakers. Thousands participated in religious services in the building's heyday, from its opening through the 1920s.
From the 1920s through the 1940s, membership began to dwindle as immigration quotas limited the number of new arrivals and the Great Depression affected the congregation's fortunes. Following World War II, many people fled the city for the suburbs. From the 1940s on, the main sanctuary was used less and less. Without the resources needed to heat and maintain the sanctuary, a small but stalwart congregation continued to worship in the building's more intimate house of study, or Bes Medrash on the synagogue's lower level.
---
Parents must complete our permission slip »
---
In the early 1980s, pigeons roosted in the balconies of the synagogue, and benches were covered with dust. Groups were formed to save the building — first the non-sectarian Eldridge Street Project and then the Museum at Eldridge Street. The synagogue was designated a National Historic Landmark in 1996, and more than $18.5 million was raised to restore it to its original grandeur.
The Museum completed the Eldridge Street Synagogue restoration in December 2007, the synagogue's 120th anniversary. The restoration received nearly every major preservation honor, including the prestigious National Trust for Historic Preservation 2008 Preservation Award. The crowning piece of the Museum's restoration is a magnificent new stained-glass window by artist Kiki Smith and architect Deborah Gans.
Today the Eldridge Street Synagogue is home to the Museum at Eldridge Street, which welcomes people from around the world for tours, school programs, concerts, lectures, festivals and other cultural events. The building also continues to be home to Kahal Adath Jeshurun, a small Orthodox congregation that never has missed a Saturday or holiday service in the more than 120 years since the synagogue first opened.
Back to Calendar