---
Sabbath Services


Fifth Avenue Sanctuary
All are welcome to attend
This event has passed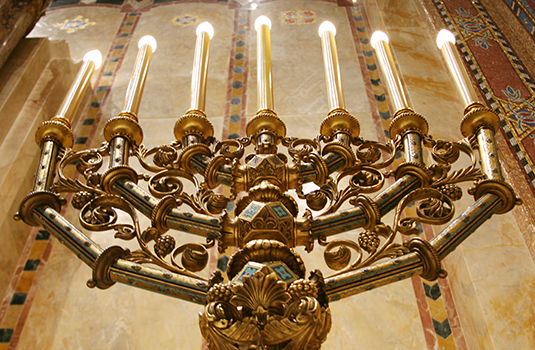 Sabbath services at Temple Emanu-El
are held Friday evenings at 6 PM (EST/EDT) and Saturday mornings at 10:30 AM. An organ recital precedes Friday evening services, starting at 5:45 PM, and Saturday morning services, starting at 10:15 AM. An
Oneg Shabbat
follows all Friday evening services. On Saturdays at 9:15 AM, worshipers are invited to join us for our Weekly Torah Study. Enter at One East 65th Street.
---
We will be joined this week by the following special guests...
Friday D'var Torah: Knesset Member Stav Shaffir

Elected at the age of 27, MK Shaffir is the youngest-ever female member of the Knesset. Now in her second term, MK Shaffir chairs the Social Justice Caucus and the Transparency Committee, fighting for budget transparency and an end to corruption. Formerly a journalist and peace activist, MK Shaffir was a leader of the social-justice movement that erupted in the summer of 2011, focused on housing, equality and democracy. She studied at the City University of London on a special scholarship for conflict resolution and at Tel Aviv University.

Saturday Sermon: Cantor Evan Cohen

Cantor Cohen is the first and only Reform graduate of the Tel Aviv Cantorial Institute and since 2001 has served as the cantor of Kehilat
Har-El, the founding congregation of the Israel Movement for Reform
and Progressive Judaism, in Jerusalem. Cantor Cohen grew up in Monroe,
New York, and graduated from the George Washington University in 1996, magna cum laude. He also has served on the cantorial faculty of the Hebrew Union College in Jerusalem and has released two albums, "Shabbat Shebalev (The Shabbat of the Heart)," a recording of the music of Kabbalat Shabbat at Kehilat Har-El and "V'samachta B'chagecha (You Shall Rejoice in Your Festival)," a joint recording with Cantor Eliyahu Schleifer of the music for the morning service of the Three Festivals.
---
Learn more about worship at Emanu-El »
Back to Calendar