---
Rosh Hashanah Services (5778)


Fifth Avenue Sanctuary and Lowenstein Sanctuary
Tickets required for entry, except where noted
This event has passed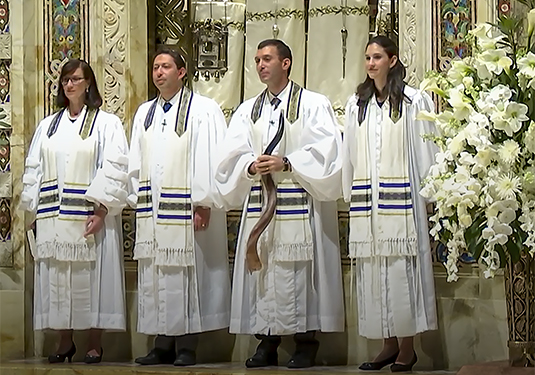 Rosh Hashanah worship services
are conducted simultaneously in the Fifth Avenue Sanctuary (Fifth Avenue at 65th Street) and in the Leon Lowenstein Sanctuary (10 East 66th Street).
Reserved seating is required for both locations.
Special notices about reserving seats for the High Holy Days were enclosed with each member's 2017-2018 dues statements, mailed in June. Renewal of reserved seating is automatic, BUT we ask that you return the renewal form included with your annual dues statement to confirm seats, release seats or make any other necessary changes. This ensures that we can accommodate new members as well as others who wish to update their accounts.
Members wanting
guest tickets
for Rosh Hashanah services must call
(212) 507-9514
.
There is a $125 processing fee per guest, per holiday.
NEW for 5778...
For members with children between 18 months and 5 years of age, we will be offering
child care
for the
Rosh Hashanah and Yom Kippur morning services
. This amenity is complimentary, but space is limited. If you register and your needs should change, then please notify the Membership Office so we may reach out to those on the waiting list. Drop-off is at 9:30 AM; pick-up is at 12:30 PM.
---
See our full schedule of services and programs »
---
In addition to our formal Rosh Hashanah services in the Fifth Avenue and Leon Lowenstein sanctuaries, Temple Emanu-El offers
open seating at several other services appropriate for adults and children alike
. Tickets for these services will be sent automatically to all member families with children under the age of 18.
We will hold a
Shir Chadash
service for Rosh Hashanah at 8 PM on September 20 in
the Fifth Avenue Sanctuary, in addition to the Rosh Hashanah evening service at 5:30 PM.
The service features a contemporary liturgy and participatory music; children are welcome.
Temple members request tickets here »
Tickets for our
Family Worship Service
(September 21 at 2:30 PM) are available at
no additional cost to all members with young children and to all our Nursery School and
Religious School parents who wish to attend services with their children and extended families.
Request tickets here »
We also have a
Pre-Readers Service
(September 21 at 9 AM) for toddlers, preschoolers and kindergarteners and their parents and a
Teen Worship Service
(September 21 at 12:30 PM) for all Emanu-El teens in grades 7 through 12. The pre-readers service is geared for our youngest children to understand and enjoy, with music and a story; the teen service is conducted in a manner that is appropriate and engaging specifically for teens. Parents of teens are invited to attend, but teens certainly may attend on their own. Teen friends also are invited.
Request tickets here »
On Rosh Hashanah afternoon (September 21 at 12:30 PM in the Lowenstein Sanctuary),
all temple members are invited to join us for a special event with
Ambassador Dani Dayan,
Consul General of Israel in New York, who will discuss critical issues facing Israel today.
Seating is open.
College students
, both temple members and nonmembers, who do not already have seats are invited to join us for Rosh Hashanah in the Leon Lowenstein Sanctuary. Students must present a current college ID on the day of the service to enter.
We also host
community worship services
, open to the public in I.M. Wise Hall (One East 65th Street), that feature audio from the Fifth Avenue Sanctuary services. No reservations are needed. In addition, services from the Fifth Sanctuary may be watched via
live video stream
through the Emanu-El website. Follow the
VIDEO BROADCAST
link from the Emanu-El Home Page. Watch archived videos by clicking the "stack menu" icon at the top right of the viewer.
Unable to attend the Rosh Hashanah morning service?
One of our clergy, shofar in hand, will be happy to pay a home visit during this season to any of our temple members.
Call the rabbis' study at (212) 507-9603.
If you have questions about the High Holy Days, including how to obtain seating reciprocity (for Temple Emanu-El members in good standing who will be out of town during the High Holy Days and wish to attend services at another Union for Reform Judaism congregation), add a name to our Roll of Remembrance or become an usher during services, then please contact the Membership Office at
(212) 507-9513
or
[email protected]
.
Back to Calendar