---
Women's Auxiliary Book Group

"The Beautiful Possible" by Amy Gottlieb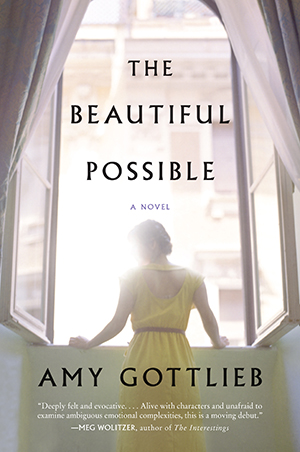 All temple members
are invited to participate in a lively book discussion led by author Amy Gottlieb and Rabbi Allison Tick Brill.
The Beautiful Possible
is an epic, enthralling debut novel that follows a postwar love triangle between an American rabbi, his wife and a German-Jewish refugee. Spanning 70 years and several continents, the story moves from a refugee's shattered dreams in 1938 Berlin, to a discontented American couple in the 1950s, to a young woman's life in modern-day Jerusalem.
There is no charge for this event, but
reservations
are needed. Light refreshments will be served. A few copies of the book are available in the temple library; call (212) 744-1400, ext. 360 to reserve a copy. Amy will be available to sign personal copies.
AMY GOTTLIEB
is a graduate of Clark University and the University of Chicago.
Her fiction and poetry have been published in
Other Voices, Lilith, Puerto del Sol, Zeek, Storyscape
and
The Bloomsbury Anthology of Contemporary Jewish Poetry
. She has received a Literary Fellowship and Residency from the Bronx Council on the Arts and an Arts Fellowship from the Drisha Institute for Jewish Education. (Photo by Nina Subin)
Back to Calendar