---
It's too late to schedule an alert for that event.


Interfaith Celebration


Fifth Avenue Sanctuary (Fifth Avenue at 65th Street)
All are invited to attend
This event has passed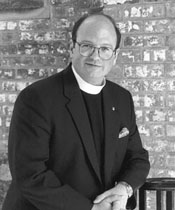 Building on our relationship
established through last year's
SDG Psalms Project,
Temple Emanu-El is pleased to welcome back to the pulpit
The Very Reverend Dr. James Kowalski, Dean of The Cathedral Church of St. John the Divine
.
---
Learn more about
the SDG Psalms Project »
---
Dean Kowalski has served in his position since March 2002, elected by the Cathedral board soon after 9/11 and just before a devastating fire struck. The Cathedral was rededicated on November 30, 2008.
He was recruited to ordained ministry by the Rockefeller "Trial Year" fellowship in 1973, when he graduated from Trinity College in Hartford, Connecticut. Since his ordination in 1978, he has served parishes in Newtown, Hartford and Darien, Connecticut. He is an inaugural Henry Crown Fellow at the Aspen Institute and a Fellow of the American Leadership Forum. He is a member of the Board of Overseers for St. Luke's-Roosevelt Hospital Center; a trustee of Episcopal Divinity School, Cambridge, Massachusetts; a director of the Center for Interreligious Understanding; and a member of the advisory board of the Episcopal Actors' Guild of America, Inc.
Dean Kowalski also is president of the foundation board of the Grace Cottage Hospital in Townshend, Vermont, where he and his wife, the Reverend Anne A. Brewer, MD, own a home. Dr. Brewer is associate director of the Family Medicine residency program at Stamford Hospital and an Episcopal priest. They have two grown children: Becky, a surgery resident at Lenox Hill Hospital in New York City, and Matt, an electrical engineer who owns a telecommunications and computer company in Baltimore, Maryland.
Back to Calendar