---
It's too late to schedule an alert for that event.


Women's Auxiliary Book Group

"The Prophet's Wife" by Milton Steinberg

One East 65th Street
Open to all Temple members
This event has passed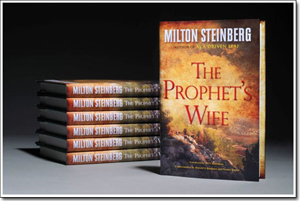 rom the moment young Hosea saw the maiden Gomer dancing at the Festival of Booths, he loved her. It was the most beautiful vision he had ever seen, and he would never forget it, despite the scornful laughter of his older brother Iddo, despite a lack of piety of Gomer's household, and despite her admission that she did not love him.
And so Hosea marries Gomer, in a troubled land where idol-worshiping neighbors offer up their daughters' purity in the sacred groves, where arrogant high priests will stop at nothing to silence troublesome prophets, and where the blood of brothers can be the strongest bond, or the most destructive.
When Milton Steinberg died in 1950, he left one manuscript tantalizingly unfinished. Like
As a Driven Leaf
, it is grand in scope, while told as a compelling personal tale. Set against a backdrop of unrest in ancient Israel,
The Prophet's Wife
is a stirring portrait of the biblical prophet Hosea, his passionate and free-spirited wife Gomer, and a people seduced by the lures of power and idolatry to betray their faith.
The Prophet's Wife
includes a foreword by Ari L. Goldman, commentaries by Rabbi Harold S. Kushner and Norma Rosen, plus discussion questions and a glossary.
(Source: Publisher's website)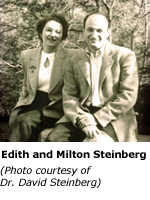 The late MILTON STEINBERG is the author of As a Driven Leaf, first published in 1939 and still regarded as a major influence on contemporary Jewish life and thought. Steinberg died in 1950 while working on The Prophet's Wife, which is now in print for the first time.

Ari L. Goldman is the author of The Search for God at Harvard and Being Jewish and a former religion correspondent for The New York Times.

Rabbi Harold S. Kushner is the author of When Bad Things Happen to Good People.

Norma Rosen is the author of Touching Evil and Biblical Women Unbound.
Open to all members of the Temple, our discussion will be held in the sixth-floor lounge of the Marvin and Elisabeth Cassell Community House.
Rabbi Alfredo Borodowski
, executive director of the Skirball Center for Adult Jewish Learning at Temple Emanu-El, will lead our discussion. Enter at One East 65th Street. Feel free to bring your lunch. Coffee and cookies will be served. RSVP to (212) 744-1400, ext. 235, or
send a message
.
Back to Calendar