---
It's too late to schedule an alert for that event.


Emanu-El Reads Book Discussion


One East 65th Street
Attendance is open to all Temple members
This event has passed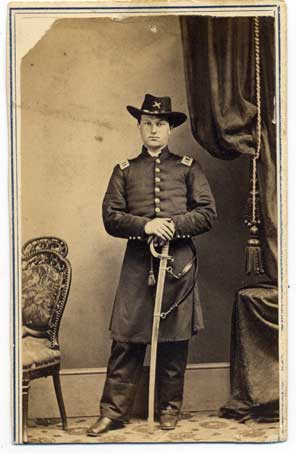 URING OUR COMMUNITY READING of
When General Grant Expelled the Jews
by Jonathan Sarna, we will offer five opportunities at which Temple members can meet with fellow congregants to share their thoughts about the novel's themes.
This session is sponsored by the Women's Auxiliary. A light lunch will be served for the charge of $10 per person.
RSVP by February 1.
Temple Librarian Elizabeth Stabler will be facilitating the discussion.
Learn more about
Emanu-El Reads »
Download a list
of discussion questions »
Image right: Captain Jacob Jacobs of the 83rd New York Infantry commanded the regiment's artillery (Cannoneer) company. He was wounded in action on the first day of the Battle of Gettysburg. In 1896 he became a founding member of the Hebrew Union Veterans Association, forerunner of the Jewish War Veterans.
(Photo courtesy of the National Center for Jewish Film, Brandeis University)
Back to Calendar