---
It's too late to schedule an alert for that event.


Women's Auxiliary Book Group

"A Dream of Zion: American Jews Reflect on Why Israel Matters to Them" edited by Rabbi Jeffrey K. Salkin

One East 65th Street
Open to all Temple members
This event has passed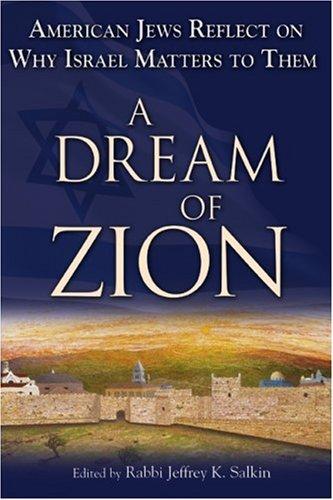 iscover what Jewish people in America have to say about Israel —
Their voices have never mattered more than they do now.
AS ANTI-ISRAEL SENTIMENT spreads around the world — from Iranian President Mahmoud Ahmadinejad to former President Jimmy Carter — it has never been more important for American Jews to share their feelings and thoughts about Israel, and foster a connection to Israel in the next generation of Jewish and Christian adults.
This inspirational book features the insights of top scholars, business leaders, professionals, politicians, authors, artists, and community and religious leaders covering the entire denominational spectrum of Jewish life in America today — and offers an exciting glimpse into the history of Zionism in America with statements from Jews who saw the movement come to life. Presenting a diversity of views, it will encourage people of all ages and backgrounds to think about what Israel means to them and, in particular, help young adults jump-start their own lasting, personal relationship with Israel.
(Source: Publisher's Website)
Contributors include:
Marc D. Angel • Bradley Shavit Artson • Samuel Bak • Sharon Brous • Nina Beth Cardin • Shoshana S. Cardin • Steven M. Cohen • Elliot N. Dorff • David Ellenson • Russ Feingold • Sylvia Barack Fishman • Abraham H. Foxman • Debbie Friedman • Jane Friedman • Niles Elliot Goldstein • Harold Grinspoon • Nat Hentoff • Dov Hikind • Peter Himmelman • Esther Jungreis • Karyn D. Kedar • Danny Maseng • Shulamit Reinharz • Thane Rosenbaum • Jonathan D. Sarna • Debbie Wasserman Schultz • Lynn Schusterman • Rami M. Shapiro • Danny Siegel • Aryeh Lev Stollman • David A. Teutsch • Stephen Joel Trachtenberg • Gordon Tucker • Henry A. Waxman • David Wolpe

RABBI JEFFREY K. SALKIN is the author of the bestseller Putting God on the Guest List: How to Reclaim the Spiritual Meaning of Your Child's Bar or Bat Mitzvah and For Kids — Putting God on Your Guest List: How to Claim the Spiritual Meaning of Your Bar or Bat Mitzvah (both Jewish Lights), among other books.
---
Open to all members of the Temple, our discussion will be held in the sixth-floor lounge of the Marvin and Elisabeth Cassell Community House.
Rabbi Alfredo Borodowski
will lead our discussion. Enter at One East 65th Street. Feel free to bring your lunch. Coffee and cookies will be served. RSVP to (212) 744-1400, ext. 235, or
send a message
.
Back to Calendar